Image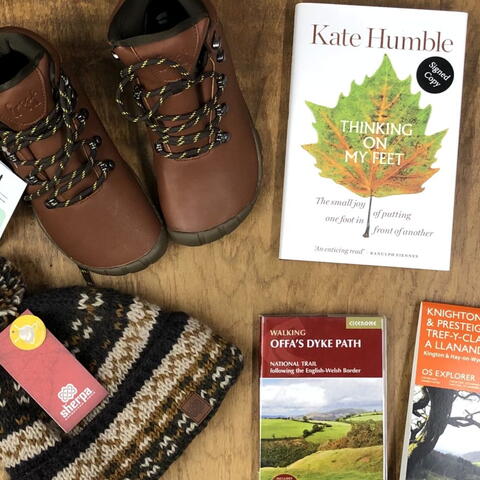 Image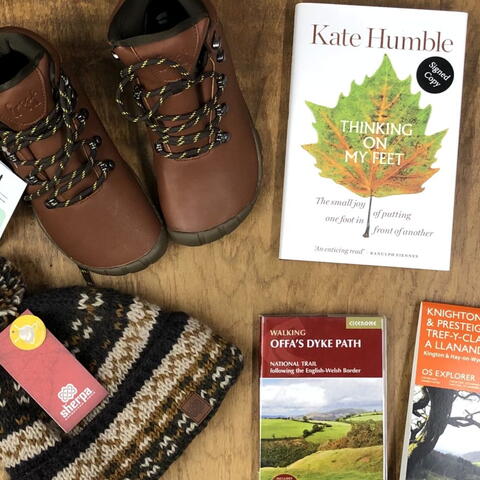 Guest Itinerary:
3 Day Walking Holiday in Kington
Daily walks from Kington, including Hergest Ridge, Offa's Dyke & The Black Mountains.
A walking adventure focused on the quirky little border town of Kington, which is Herefordshire's Centre for Walking. Each day includes a walk that can easily be extended or shortened, plus eclectic places to visit and my favourite cafes and pubs. I've also included some ideas for excursions over the border into Wales.
Local Champion:
Ali Allen
Ali owns The Walking Hub in Kington, which is a specialist walking shop and also offers accommodation. She is a qualified British Nordic Walking Instructor and runs taster sessions, classes and guided Nordic Walks.
Day 1: Discover Kington on Foot
Visit the Walking Hub located opposite the clocktower to pick up your copy of Six Great Walks for £1. You can also purchase local maps, get more advice (whether you want it or not!) on the walks suggested in this itinerary, and, of course, update your walking gear as needed.
Start with a leisurely wander along Route 6 (2 ½ miles) from the Six Great Walks booklet.  As you walk up Church street, stop in at The Kat and Fiddle and Made in the Marches gallery to see what our amazing local artists are up to.  You'll also pass the Tourist Information Centre where you might want to gather more information for your next visit to Kington of course. St Mary's Church spire will be visible at the top of the hill. Dating back to the 12th century this iconic landmark is certainly worth a visit.  In the south aisle of the church lie Black Vaughan and Ellen the Terrible, entombed in magnificent alabaster effigies and giving rise to many a legend in Kington. Continue along the route and you'll follow the old tramway that runs along the Back Brook and past many of Kington's historic mills, weirs and intriguing back alley ways.
Head back into the centre of town for lunch at the Border Bean which serves up a world-famous hot chocolate, delicious lattes and perfect light lunches. Feeling satiated, head back up Church Street, but this time walk through the churchyard and up Ridgebourne Road following the signs to Hergest Croft Gardens. You could easily spend all afternoon wandering around this 70-acre garden with an old-fashioned kitchen garden, rare plants, ancient 'champion' trees and best of all Park wood with its gigantic Rhododendrons. At certain times of year there are plant sales, a gift shop and a tearoom.
In the evening, drive out on the A44 towards Old Radnor and visit The Harp, a lovely old Welsh long house Inn, perched on top of a hill.  Have a drink and evening meal, sitting outside watching the sunset over the beautiful Vale of Radnor. Look to your left and you'll see Hergest Ridge where you'll be walking tomorrow.
Image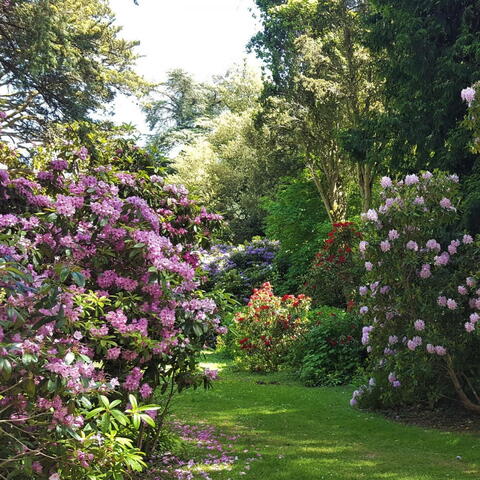 Day 2: Offa's Dyke & Border Country
Today you are going to walk along what could arguably be called the best stretch of Offa's Dyke, a National Trail that runs the length of the Welsh border from Chepstow to Prestatyn (177 miles). This particular section walks right out of Kington (past Hergest Croft Gardens) and over Hergest Ridge, crossing the Welsh border into Gladestry, about 8 miles round trip (approximately 4 hours of walking).  A map is recommended but it does follow a well-defined trail and is waymarked with the National Trail acorn.  You'll be rewarded with breathtaking views in all directions, from the Shropshire Hills and the Malverns to the Black Mountains and the Brecon Beacons.
Arrive in the pretty village of Gladestry just in time to enjoy lunch at The Royal Oak. Don't eat too much though because you have to walk back and you need to save the calories for dinner tonight! To return you can either walk back along the same route, or choose a different path across the ridge. Calories aside, you might want to reward your return to Kington with an Uncle G's homemade ice-cream from Bees Knees Cookshop.
Tonight, drive out north along the B4355 towards Titley, home of The Stagg Inn. Over the years this pub has achieved many awards for their food and drink and it's rustic, yet contemporary atmosphere is not to be missed. For an option closer to home, visit one of Kington's many pubs and an opportunity to mix with some of the friendly locals.
Image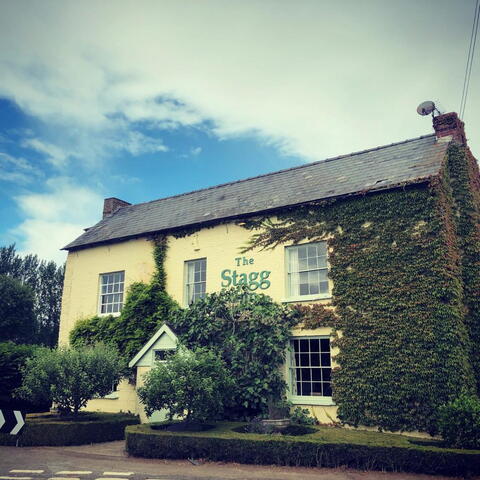 Day 3: The Black Mountains & Hay-on-Wye
You'll be heading further afield today, but it's worth it, not only for the destination but the journey too. And to be honest a visit to Kington is not complete without a visit to its erudite, book-loving neighbour Hay-on-Wye. You will be visiting the Black Mountains and summiting Lord Herefords Knob (yes, the name of a hill!).  Leave Kington on Hergest Road and drive along this lovely country lane as it winds its way down to the Wye Valley through Brilley.  After you cross the bridge into Hay-on-Wye, turn right along the Brecon road and then left on Forest Road and head up towards Capel-y-Ffin. Park at the parking spot for Hay Bluff.
Follow the steep path up the Bluff and then turn right and follow a footpath along the top of the ridge down to Gospel Pass, cross the road and ascend a well-defined path up to the summit of Lord Herefords Knob (also known as Tympa – but the former name is much more fun). Return the way you came and you will have walked about 5 miles with stunning views all the way of the Black Mountains, the Brecon Beacons and the Wye Valley.
Drive back down into Hay-on-Wye for an afternoon of browsing Hay's unique independent shops, visit the castle or sit quietly by the River Wye reading the book you most certainly will have purchased.
If you have another evening to spare then stay in Hay for dinner and a film. The Blue Boar has a good traditional pub menu or Tomatito's Tapas bar for a more Spanish flair. Then head to Richard Booth's Bookshop Cinema for a unique movie experience.  From their fully licensed bar,  indulge in a coffee and a little paper bag of sweets from the big jar on the counter (yum!). Sink into the super comfy chairs in this very small but extremely stylish cinema.
Image