Image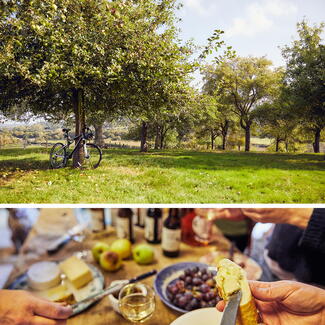 Cider Circuits
Explore the spiritual home of apples and cider
Celebrating our favourite thirst-quencher
Three circular routes
One in the north, one in the south, and one in the west
Ideal for keen cyclists
Great by car too (all that boot space for bottles!)
Complete each loop in one go or relax the pace and stay en route
Each circuit includes recommendations for places to break for a coffee or bite to eat, as well as a wander.  Please call ahead to check opening times.
Image

Here in Herefordshire, we believe we are the rightful 'home' of the apple and cider! We have the perfect soils and weather to grow the finest apples in the world. It's a skill we've been perfecting for hundreds of years. 
You don't have to travel far to see the evidence. In Hereford, where Bulmers began, you can tour the Museum of Cider, housed in the original 1888 factory. Here you'll uncover the story of the county's preferred drink and, no doubt, visit the well-stocked Bottle Shop.
Out in the country you are never far from an orchard and a sign at the end of a farm drive inviting you to come and try their traditional cider. If your acquaintance with cider is the odd glass in a pub prepare to have your taste perceptions challenged! 
The North Circuit: The Newton Wonder
North of Hereford stretches an undulating swathe of farmland, orchards and forested hills, studded with the 'Black-and-White Villages', which feature the traditional timber-framed houses typical of our region.  
This 49-mile loop visits alluring hamlets, historic sites and passionate artisan producers creating excellent ciders, perries and juices. The circuit runs from Hereford to Tillington and Weobley, then on to Pembridge, Eardisland and Monkland, skirting Leominster, before arriving back in Hereford.
Producers featured:
Highlights include:
Speeding down the descent to Weobley

Stepping inside a leaning timber-framed dovecote from 1673

Refuelling in the cafes and pubs in pretty Pembridge


 
Image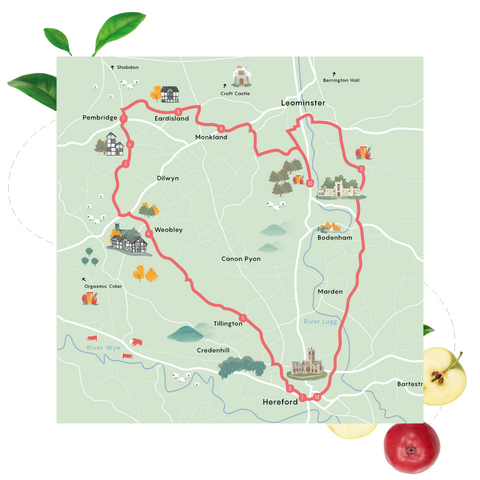 The South Circuit: The Redstreak
The ancient apple and pear orchards of southern Herefordshire, some of them well over two centuries old, are lovingly harvested by local producers to ferment spectacular ciders and perries in traditional and innovative styles. 

Producers featured:
Highlights include:
Making your way over Foy Suspension Footbridge
Pausing for a picnic in a shady spot on the Wye
Admiring Hoarwithy's Italianate-style church 
 
Image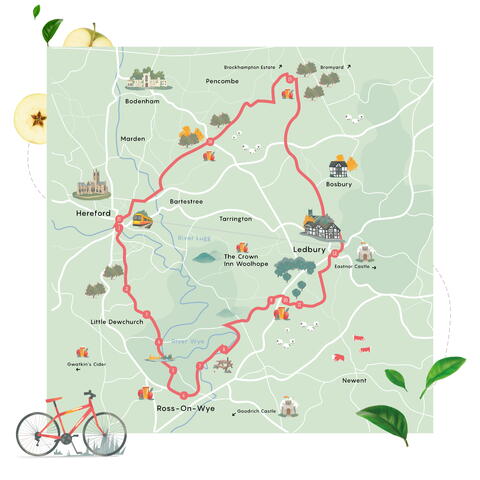 The West Circuit: Porter's Perfection
The west of the county is patchworked with apple orchards and studded with artisan cider producers. This is the glorious Golden Valley, laced with rolling hills and a network of peaceful backroads - perfect for cycling.
Tackle the rewarding 48.5-mile double loop from Dorstone to meet craft cider makers and slake your thirst at historic pubs. The circuit runs through north, taking in Bredwardine and Whitney, before snaking south to Rowlestone and returning via Ewyas Harold, Abbey Dore and Peterchurch. For a shorter ride, just cycle the north or south section.
Producers featured:
Highlights include:
Pedalling the steep 100m climb to Bredwardine

Calling in at the county's oldest pub, The Pandy Inn

Drinking in the dramatic views at the pre-historic Arthur's Stone
Image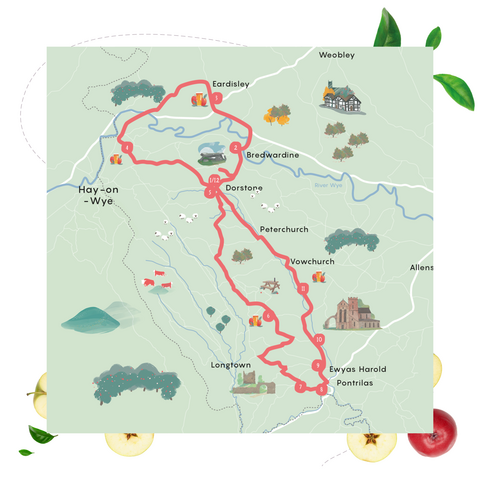 Wheely Wonderful Cycle Hire
They are open every day 9am - 5pm from April to the end of September. It's best to book your bikes a day in advance. Or you can call and check availability on the morning of.
Location: Petchfield Farm, Elton, Ludlow
It Takes 2 to Tandem
Retro tandem cycle hire for all occasions, enjoy a day out with your pedal pal and a picnic. Delivery to your accommodation available. 
Ledbury Cycle Hire
Ledbury Cycle Hire cater for adults, with both Male and Female bikes available to suit your preference. They are open all year round and their rates start at just £12 per half-day.
Drovers Cycles
Drover Cycles offer a wide range of rental bikes for all ages and riding styles. They offer bike rental from their base in Hay on Wye, but can also deliver hire bikes further afield by special arrangement.