Image
The Herefordshire Trail
Image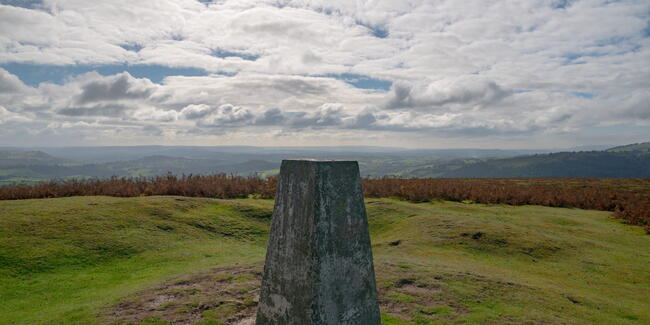 A superbly scenic 154-mile loop around the county
Circular route, linking Herefordshire's five characterful market towns
From steep hill climbs & wooded river valleys to gentle hikes through hopyards & orchards
Dotted with historic landmarks including ancient hillforts, castle ruins, once-bloody battlefields & remote churches
Stunning views and unrivalled tranquillity
A walker-friendly welcome across the county
 
Tag us in your adventures on social and use the hashtags #FollowTheApple and #HerefordshireTrail
Image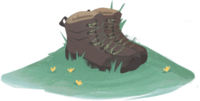 Download The Herefordshire Trail Guide
The Herefordshire Trail is a long-distance walking trail which loops the county, taking in our five historic market towns, undulating meadows, ancient orchards, steep hills and glorious river valleys.
Start in pretty Ledbury, heading towards the Wye Valley AONB  and buzzy Ross-on-Wye before trekking the unspoilt landscapes of the Golden Valley. Head for the heights of Kington and Mortimer Country where the castle ruins tell the tale of past turbulence.
Dip into the antiques mecca of Leominster then make east for hop-picking country and foodie Bromyard. Hike through vineyards, skirting the Malvern Hills and the landscape which has inspired poets, to return to Ledbury.
Highlights include:
Walking through Big Apple country and along the hop pickers' path
Gazing at the panoramic view at Harley's Mountain & Merbach Hill
Tracing the Rivers Wye, Teme, Lugg & Frome
Taking in the serenity of deep forests 
Peeking into remote, medieval churches
Roaming craggy castle ruins

 
Image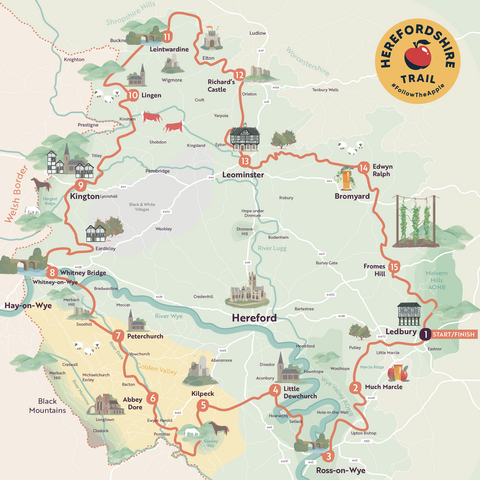 #FollowTheApple!
New apple waymarkers will guide you on your way. Share your best trail photos with us on social with the hashtags #FollowTheApple and #HerefordshireTrail
Image
Section 1: Ledbury to Marcle Ridge
Wind through Big Apple Country, 7.5 miles
Walk through orchards & visit Westons Cider 
Discover 'The Wonder'
Gorgeous views from Marcle Ridge
Image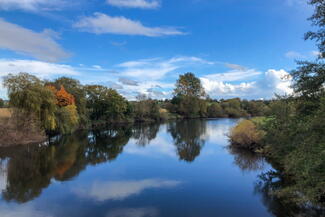 Section 2: Much Marcle to Ross-on-Wye
Sleeping Beauty & Trail Treasures, 11.6 miles
See a beautiful medieval effigy
Peaceful woodland wanders
Admire the River Wye and visit vibrant Ross
Image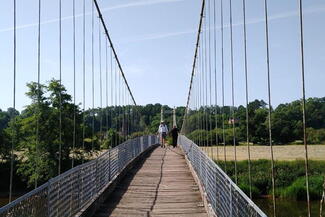 Section 3: Ross-on-Wye to Little Dewchurch
Upriver with the glorious Wye, 10 miles
See the scenic birthplace of English tourism
Cross the elegant Sellack Suspension Bridge
Tour Hoarwithy's Italianate church
Image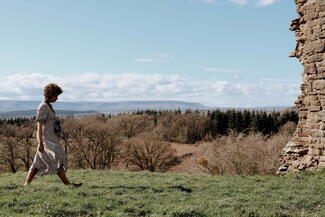 Section 4: Little Dewchurch to Kilpeck
Field & forest of a lost kingdom, 6.23 miles
Learn about the ancient land of the hedgehogs
Relax in the tranquility of two forests 
Image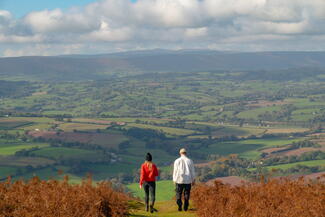 Section 5: Kilpeck to Abbey Dore
Pilgrimage through the hills, 11.6 miles
Marvel at the ornately carved Kilpeck Church
Soak up panoramic views from Garway Hill
Trek through the unspoilt Golden Valley 
Image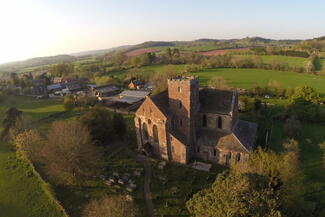 Section 6: Abbey Dore to Peterchurch
Treasures of the Golden Valley, 7.7 miles
Feel the unrivalled serenity of Dore Abbey
Climb to St Margaret's Church for amazing views
Amble to two charming medieval churches
Image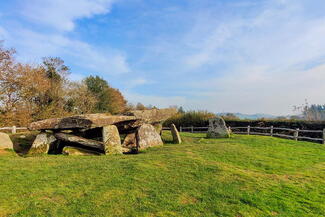 Section 7: Peterchurch to Whitney Bridge
To the uplands of the Stone Age, 10.7 miles
Roam the craggy ruins of Snodhill Castle
Pause at the spellbinding Arthur's Stone
Scale Merbach Hill for jawdropping views
Image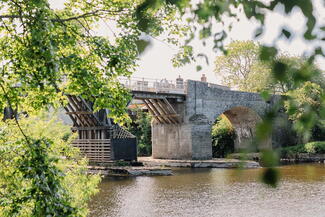 Section 8: Whitney Bridge to Kington
Walking on the wild side, 11.9 miles
Follow the deep holloways of Whitney Wood
Find out about Brilley's funeral stone tradition
Walk through Eardisley Park and a nature reserve
Image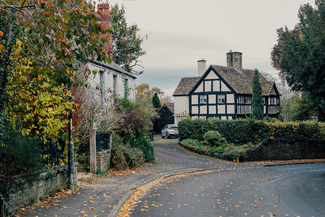 Section 9: Kington to Lingen
Tracking Lord Byron, 12.2 miles
Trek in the scenic footsteps of Lord Byron
Wend through river valleys via a hill fort
Descend from Kinsham to an oak wood 
Image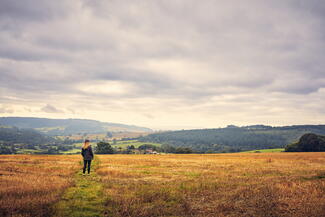 Section 10: Lingen to Leintwardine
Mountain top to Roman road, 9.1 miles
Climb the trail's highest hill (1260 ft)
Wander through tranquil Brampton Bryan
Trace the Teme Valley to a Roman town
Image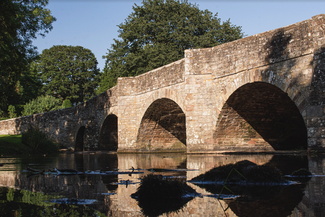 Section 11: Leintwardine to Richards Castle
Mule tracks of the ironmasters, 13.3 miles
Hike up Shelderton Hill to a medieval deer park
Follow the River Teme, where iron was made
Visit a church with rare cast-iron grave-slabs
Image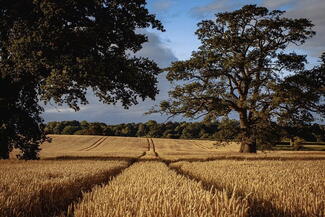 Section 12: Richards Castle to Leominster
Battlefields journey, 9.2 miles
Explore a rare pre-conquest Norman fortresses
Pass through a patchwork of flat fields
Walk the battlefields of the Wars of the Roses
Image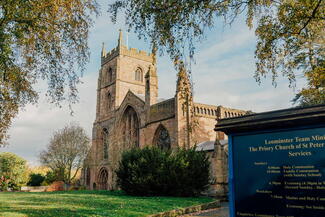 Section 13: Leominster to Edwyn Ralph
Spires & towers of medieval landmarks, 11.65 miles
See the grand Leominster Priory 
Trace the River Lugg through rolling meadows
Peek into three characterful medieval churches
Image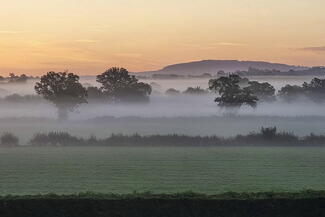 Section 14: Edwyn Ralph to Fromes Hill
The hop pickers' path, 9.9 miles
Tread through hopyards with high bines
Look out for the distinctive, traditional hop kilns
Cross the River Frome and climb Fromes Hill
Image
Section 15: Fromes Hill to Ledbury
To the realm of poets, 10.01 miles
Travel green lanes and through a vineyard
See poet Elizabeth Barrett Browning's home
Trace the Malvern Hills to John Masefield's birthplace
Image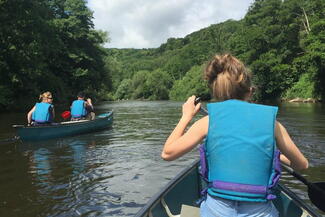 Take our 6-day endurance challenge on foot and by canoe for an alternative way to experience the south-west section of the Herefordshire Trail.
Read More
Image
Make the most of a weekend away with a short break on the Herefordshire Trail. 
Read More