Image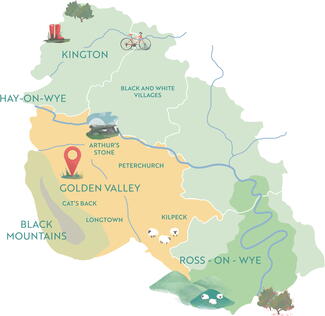 The Golden Valley
An undeniably magical place
Wild, untamed countryside
Carved between two river valleys & the Black Mountains
High peaks including the Cat's Back
Rolling hills & rural villages
Remote ruins & captivating churches
Atmospheric Neolithic burial stone
Image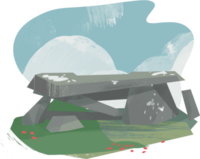 Winding around the narrow lanes through the Golden Valley's idyllic countryside, past a neolithic monument, ancient churches and ruined castles is the closest most of us will get to travelling back in time. It's a wild, untamed place, with Hay-on-Wye to the north and Pontrilas to the south. The name is a little misleading as in fact it is carved between two river valleys, the Dore and The Monnow, and the Black Mountains. This makes for many highs and lows, from the thrilling peaks of the Cat's Back, Black Hill and Moccas Wood to the mosaic of rolling hills and patchworked fields. 
Love Your Golden Valley Break
Image
Hike through Hills & History
Ramble around the rolling hills and rural villages, stumble across remote ruins - from the highest medieval monastery Craswall Priory to the motte and bailey at Snodhill, and make a pilgrimage to Dore Abbey, a tranquil 12-Century Cistercian monastery. Arthur's Stone is an atmospheric prehistoric burial chamber with views out across the mountains and there's many special churches, including St Margaret's, Bacton, Moccas and Clodock. Walking at sunrise or sunset is recommended for the views, whilst the stargazing is pretty out of the world too.
Image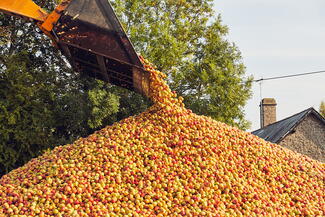 Artisan Food & Drink
Amongst the ancient wildflower meadows, grazing sheep and babbling brooks, it is a hive of foodie activity. Homegrown artisans make gin, ciders, ice-cream, chocolates and cheeses here. Some open their doors to visitors, try the gin-making experience at Black Mountain Botanicals, lick an ice-cream at Rowlestone Court or at Shepherds' ice-cream parlour in Hay-on-Wye. You can pick up cider fresh from the farm at Gwaktin and Ty Gwyn, whilst Artistraw opens by appointment for tours and tastings. Look out for many other local specialities in farm shops and delis, including Wildknapp Gin, By Eva Chocolates, Neal's Yard Creamery cheese, plus cider from Pips and Fair Oak.
Image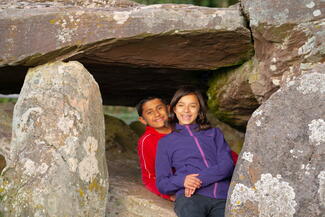 Creative Inspiration
People are drawn to the Golden Valley to write, paint and create. And that isn't anything new. It is said that C.S.Lewis found it a particularly inspiring spot - one look at the stone slabs of Arthur's Stone and you are immediately transported to the scene where Aslan is sacrificed in The Lion, The Witch and The Wardrobe. We also like to think a little of our local enchantment made its way into Alice in Wonderland. Lewis Carroll had connections with the area as his brother was vicar at Vowchurch (and is  buried in the churchyard, Rev Skeffington Hume Dodgson).
Explore The Golden Valley
Image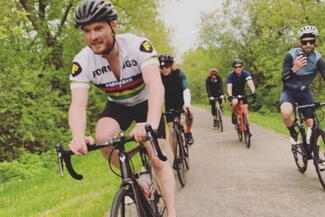 James Chase of Chase Distillery recommends a cycle circuit through the best of Herefordshire countryside, including the Golden Valley.
Read More
Image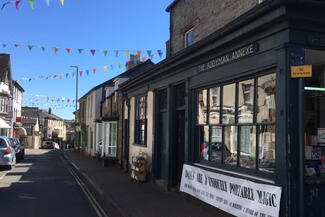 A tiny place with an enormous reputation, Hay-on-Wye is sat at the north of the Golden Valley. The traditional shop frontages, painted in zingy pops of colour, and lovely stone buildings will lure you in for a mooch. Browse art galleries, homeware stores and eclectic antiques, not forgetting the almost endless bookshops.
Read More