Image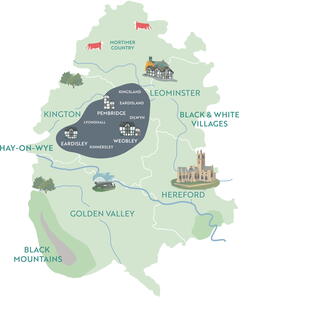 Black & White Villages
A small slice of heaven
Medieval villages with the prettiest half-timbered buildings

Quiet roads, passing hopyards, orchards & farmland

Situated in the north of the county

Great to walk, bike or drive

Visit in spring for the apple blossom, in autumn for the harvest

Take your time and stay along the way
Image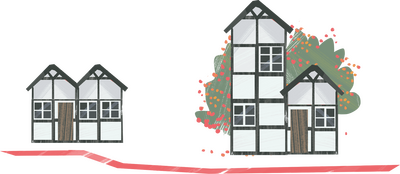 North Herefordshire's Black and White Villages are an absolute delight. The timber-framed architecture is brimming with character and the villages peppered with cosy pubs and tea rooms, art galleries and village shops. Make time for riverside picnics, country walks and meandering bike rides. 
This is cider country so a springtime visit will be accompanied by clouds of apple blossom whilst autumn brings the harvest - the perfect time to visit our cider makers and watch cider being made.
Image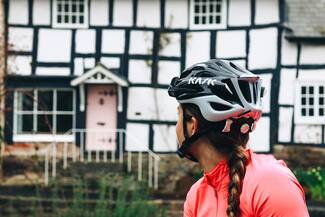 42 miles Leominster/ Eardisland/ Pembridge/ Weobley/ Dilwyn
Tour our most photogenic 'black and white villages' over 1 or 2 days. With cosy pubs, historic churches and riverside picnic spots along the way.
View the Route
Image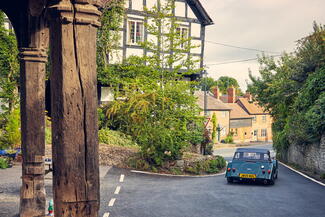 Take a magical mini roadtrip. Stay at B&Bs and country pubs en route, or base yourself in one of the villages. 
At 37 miles, it's easy for electric cars to do on on a single charge. And there are charging points in Leominster, Kington and favourite black and white restaurant with room, The Riverside at Aymestrey.
View the Route
Image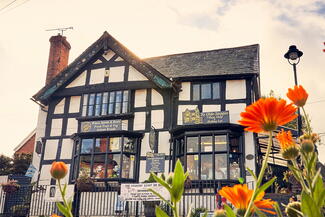 Leominster/ Pembridge/ Shobdon/ Eardisland
Take an easy (and sustainable) ride around our pretty Black and White Villages. Arrive in Leominster by train and then take the 496/495 bus service which calls at a series of sublime spots.
Read itinerary
The Stars of the Show, Three Must-See Villages
Image
Image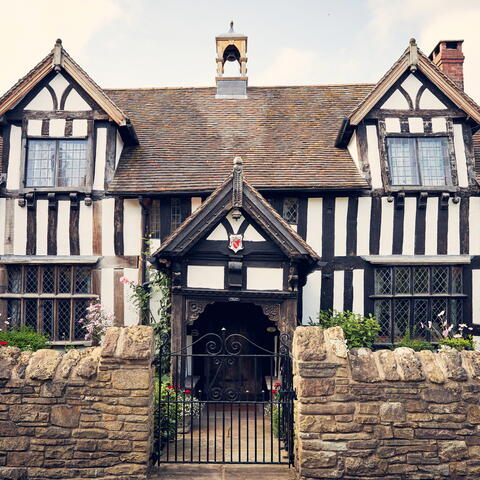 Image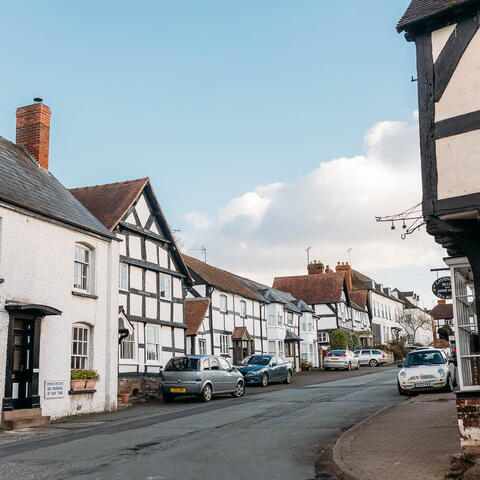 Image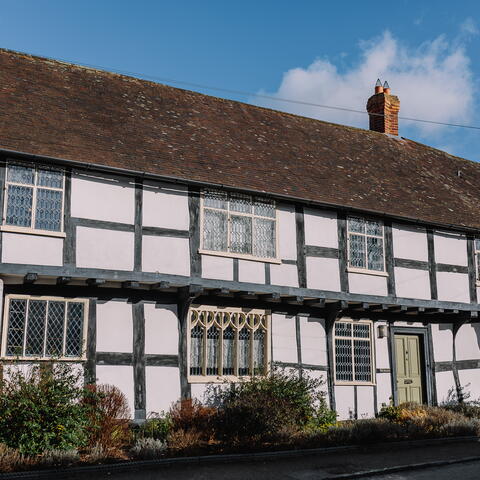 Image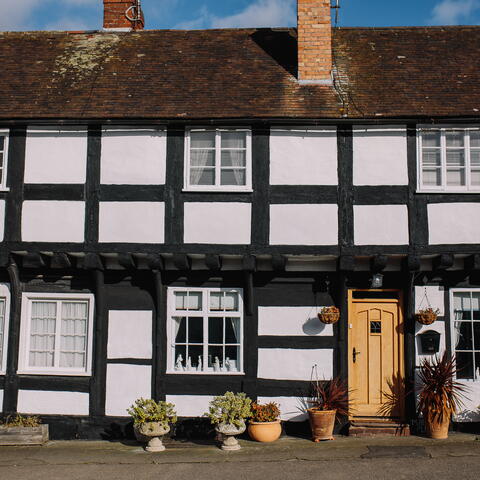 Image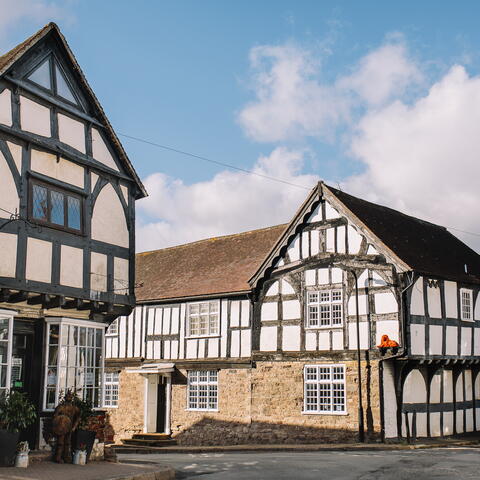 Image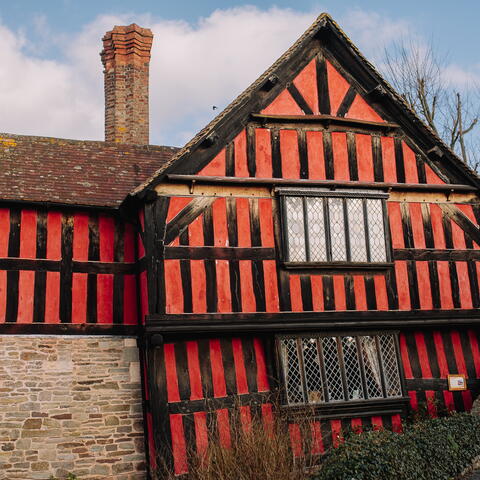 Image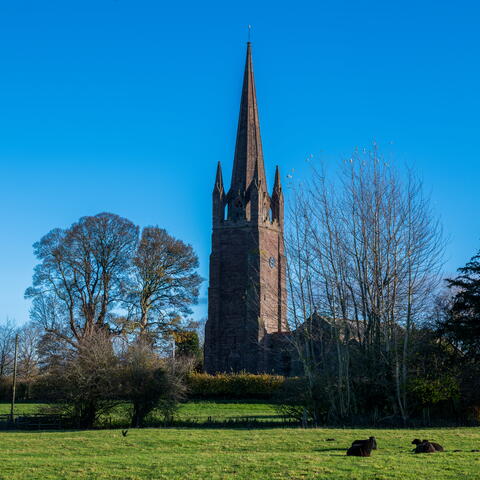 Weobley
Pronounced 'weblee', follow the Heritage Trail to see excellent examples of timber-framed buildings, including cruck cottages and Wealden houses, as well as the place where Charles 1st stayed overnight during the Civil War.
Look out for the pink and black house.
Wander over to the fine church of St Peter and St Paul with its 185 feet high spire.
Stroll around the remains of Weobley Castle.
Refuel at The Green Bean cafe, Ye Olde Salutation Inn, or Jules Restaurant. 
 
Black & White Walk: Weobley to Burton Hill
Traverse peaceful fields and climb into a mesmerising hilltop forest, discovering a glorious Elizabethan manor and the remains of a 13th-century fort.
Stay in Weobley
Sleep under the beams in a black and white B&B or village pub in the heart of Weobley.
Image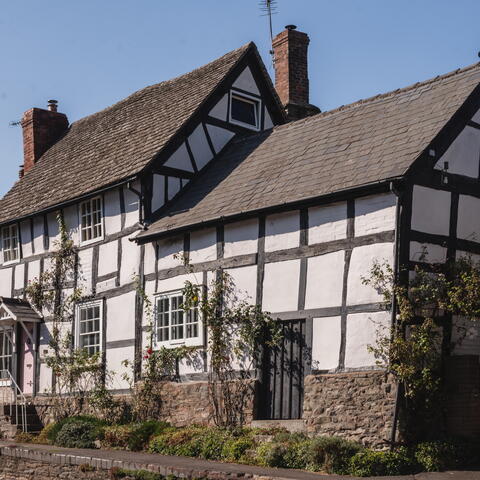 Image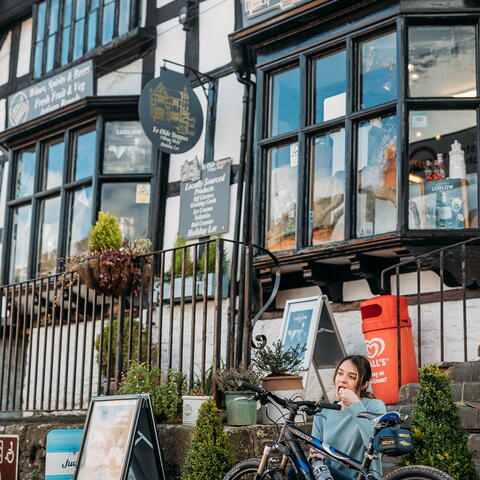 Image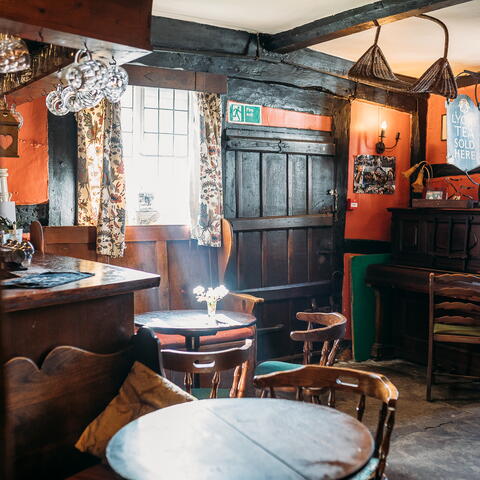 Image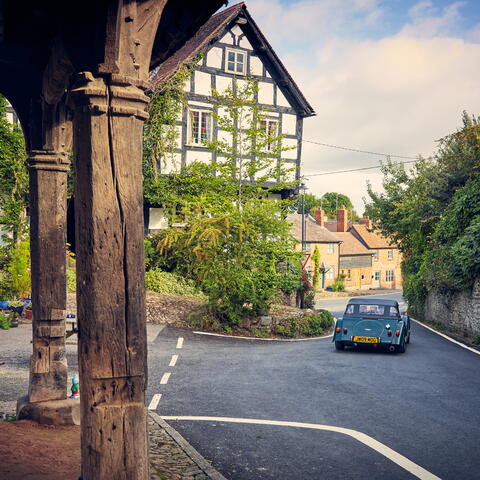 Image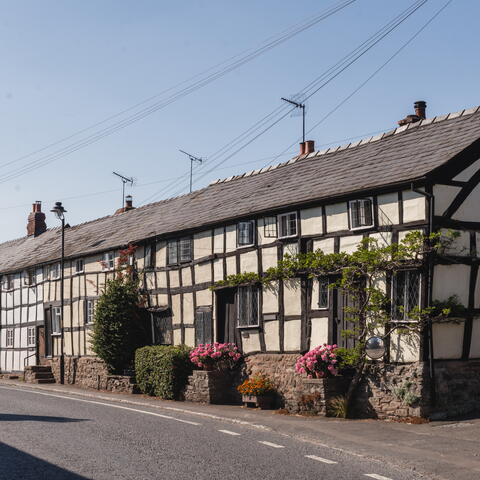 Image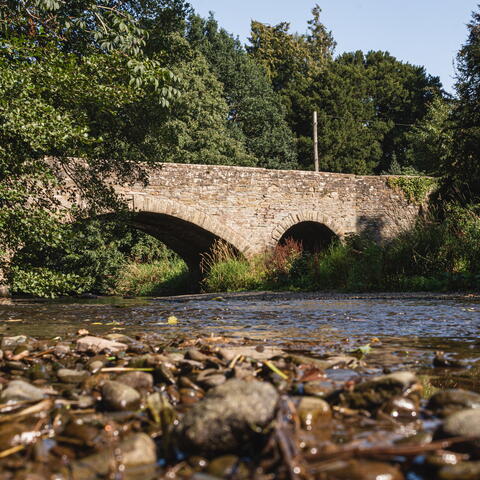 Image
Pembridge
Vibrant black and white village, with fine 

almshouses & characterful 700-year-old New Inn.

See the 

16th century Market Hall.

V

isit St Mary's Church and its

 amazing pagoda-style belfry.

Peruse modern art & craft at Old Chapel Gallery.
Paddle & picnic at the pebble beach by the bridge.
Enjoy delicious food at the nearby Cider Barn Restaurant. 
Pembridge once enjoyed the patronage of the powerful Mortimer family and the prosperity that went along with it. Quintessentially English, picture-perfect timber-framed buildings line the main street, with the house names giving away the buildings' original uses.
Stay in Pembridge
From a hobbit house to a holiday cottage or camping. 
Image
Image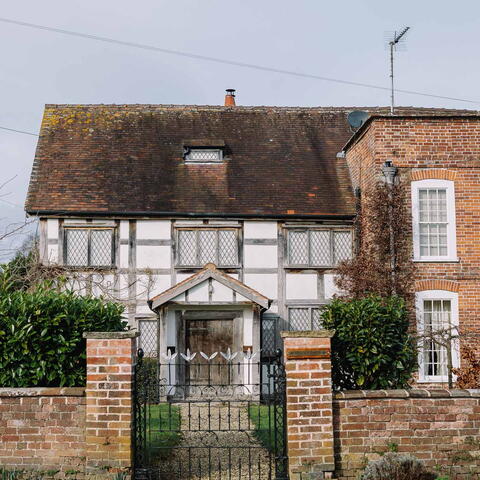 Image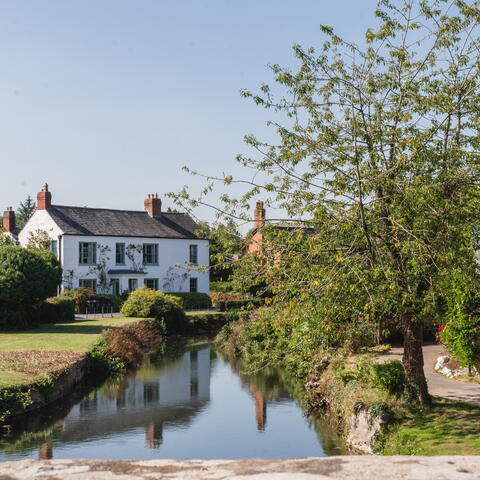 Image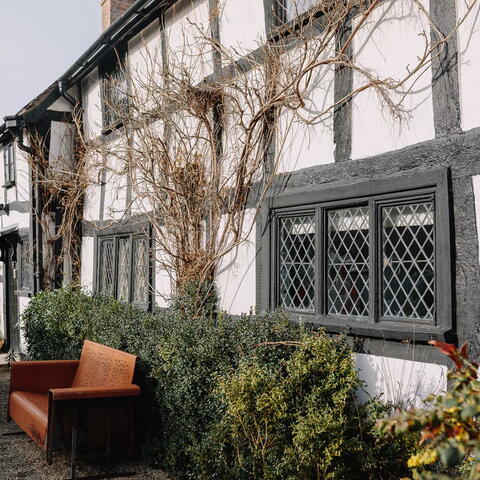 Image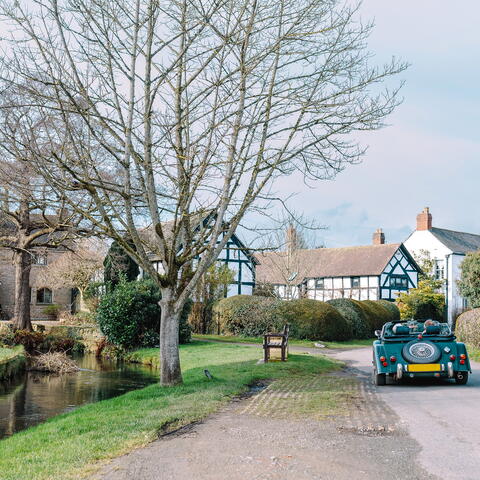 Image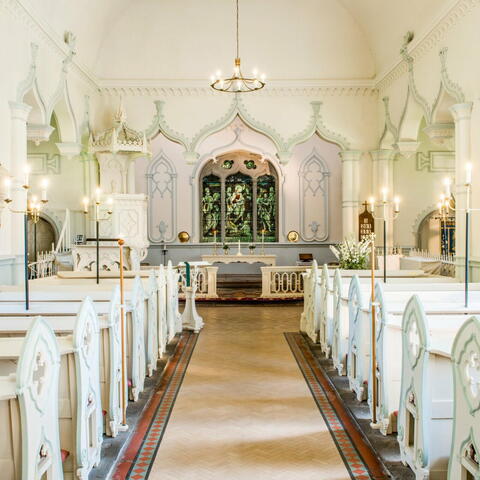 Eardisland
Sublime setting on the banks of the River Arrow.
Many picturesque black and white houses, including some thatched. Stand on the bridge to see the Old School House (complete with whipping post!) and the Manor House. Along the Leominster Road, see the fine Staick House, dating from c.1300.  
Spot the moated Saxon castle mound, the oldest AA kiosk in UK and the medieval church.
Pop into the community shop in the unusual 17th-century riverside dovecote.
Along the river, find a super spot for stone-skimming and paddling. 
Relax in the two traditional country pubs or in Rita's tearooms.
Black & White Walk: Eardisland to Shobdon Arches
Roam rolling farmland to discover a winsome black and white village, a medieval folly and one of England's most remarkable rococo churches.
Stay in Eardisland
Pick from black and white beauties  to luxury lodges, all in the heart of the village.
Small but Beautiful - Pretty little villages
Image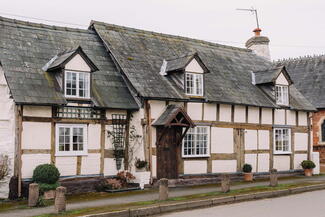 Image
Image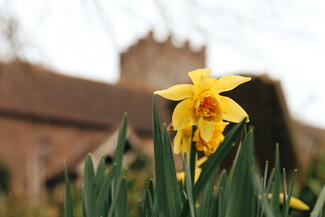 Image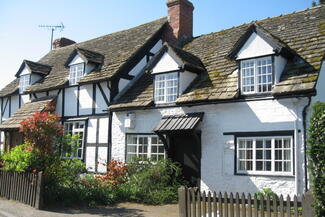 Eardisley
See the elaborate church font, the work of the Herefordshire School of Romanesque Sculpture.
Tram Square is named after the early 19th century horse-drawn tramway which brought Welsh coal to the village.
Visit Hurstway Common, a mile away, to see one of the oldest and largest oaks in England.
Nearby, call in at Orgasmic Cider or take a detour to Small Breeds Farm & Owl Centre.
Stay over in Eardisley, find your perfect rural retreat.
 
Image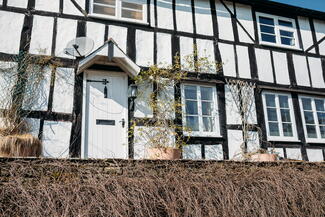 Image
Image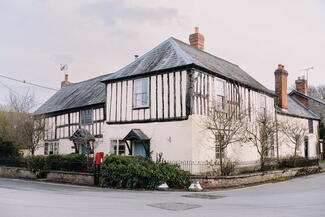 Image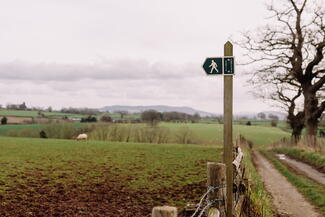 Image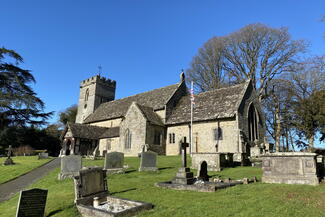 Lyonshall
Pop into the delightful hillside church which sits alongside the ruins of the moated castle.
See part of Offa's Dyke nearby.
Visit the main village which was rebuilt half a mile away from its original site after the Black Death in 1348-50.
Look out on rolling fields; some grow blackcurrants for locally-made liqueur British Cassis ( tours available).
Stay over in Lyonshall, picking from large holiday homes and smaller cottages.
Image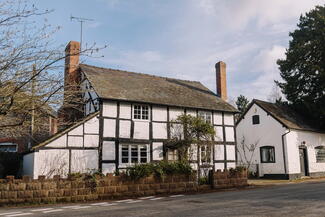 Image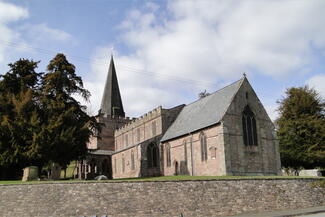 Image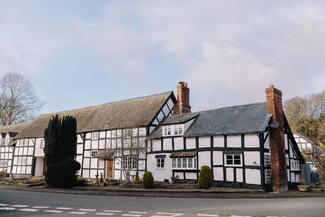 Dilwyn
Dilwyn means 'shady or secret place', very apt for its setting in a wooded hollow.
Walk on the traditional village green with its black and white cottages, converted from tithe barn (over 300 years old) which houses the tithes  - taxes in kind - that landholders had to pay to the Lord of the Manor and the church Rector.
Visit St Mary's Church which dates from late 12th century.
Eat at the original forge, now a tea room & gallery, or at The Crown Inn.
Stay near Dilwyn, find perfect accommodation close to the village.
Image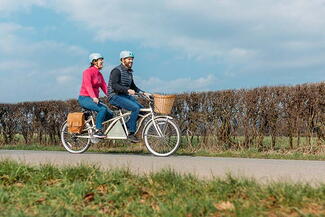 Kingsland
Take in the Church's high, ornately decorated, barrel-vaulted chancel roof 
Relax on the wide green with its handy benches
Call in at the two enticing black and white pubs, The Corners Inn and The Angel
Pop into Kingsland Stores for toasties, cakes and homemade goodies