Image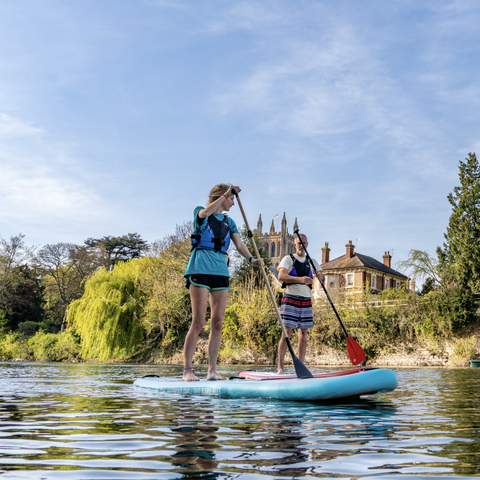 Canoeing & Paddle Boarding on the River Wye
Image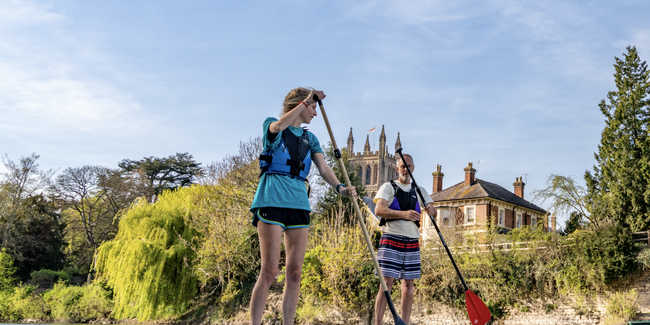 Explore Herefordshire on Water
Watch for kingfishers and peregrine falcons from a stand-up paddleboard at Symonds Yat
Admire a unique view of Goodrich Castle from the Wye near Kerne Bridge
Take a refreshing dip in the Teme near Leintwardine
Kayak the weirs and eddies of the River Lugg
Paddle a four-day river adventure along the Herefordshire Wye
English tourism was born on the Wye two and a half centuries ago. It was in 1770 that William Gilpin traced the serpentine curves of this spectacular river, still Britain's favourite, downstream from Ross-on-Wye, and was inspired to write the first travel guidebook based on his experiences. Since then, waves of artists, poets, fishers and paddlers have enjoyed the wonders of this most delightful of waterways.
Today the Wye is still the focus of aquatic adventures. It's one of the few rivers in Britain that's navigable by canoe or kayak for over 100 miles, including the Herefordshire stretch all the way from Hay-on-Wye to the Welsh border near Monmouth and beyond. But there are other ways and places to take to the water in the county, from peaceful glides aboard an SUP to remote wild swimming pools, build-your-own-raft adventures and whitewater rapids to thrill kayakers. And with a range of providers renting equipment, teaching skills and running family-friendly courses across the county, you'll take to these rivers and streams like a duck to water.
Image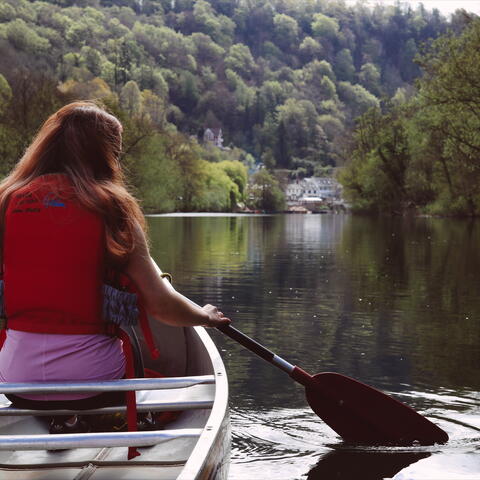 If you have never navigated the Wye, you have seen nothing.
Easy Paddles - Best For...
Image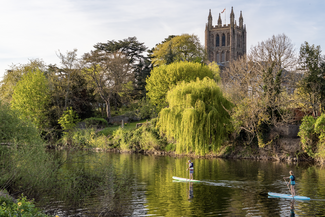 The classic Wye voyage
For a real odyssey, enjoy a week canoeing downstream from Hay-on-Wye through Herefordshire and across the border to Monmouth, camping beside the river. First, voyage from the renowned book town to the rose-hued magnificence of Hereford Cathedral. Drift past verdant meadows to Hoarwithy, dominated by its distinctive Italianate church, then around one of the widest meanders to reach Ross-on-Wye. Finally, admire the might of Goodrich Castle, peer up at the cliffs of Coldwell Rocks and pause for a pint at Symonds Yat before reaching journey's end.
Image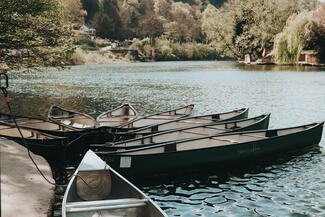 A sunny day on the water
The upper reaches of the Herefordshire Wye offer relaxing paddling – perfect for a warm day kayaking. Put in at Glasbury, just over the border in Wales, and spend the morning working up an appetite for your lunchtime arrival in Hay-on-Wye – don't miss the delectably creamy sheep's-milk ice cream at Shepherds Parlour. Then it's back into the boat for a mellow afternoon sandwiched between England and Wales before beaching at Whitney-on-Wye by the welcoming Boat Inn – perfect for a celebratory pint!
Image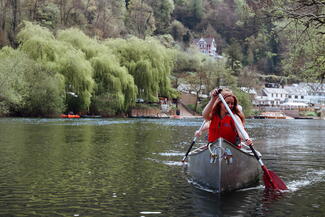 Family frolics
A half-day outing in a Canadian canoe is a great way to introduce youngsters to the joys of paddling – it's suitable for children from about four years old, accompanied by water-savvy adults. The eight-mile stretch of the Wye downstream of Kerne Bridge offers the right mix of spectacles and scenery, with soaring buzzards, nesting swans, wooded hillsides and lovely riverside picnic spots. Looming Coldwell Rocks cliffs at Symonds Yat provides a dramatic endpoint to a family-friendly mini-adventure.
Hire and Explore with the Experts
Image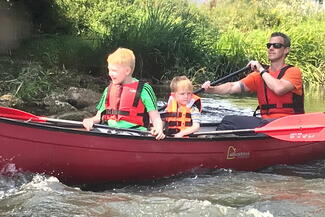 Adventures With Dave - Hereford
Meeting point: Our start and end points vary dependent on the expedition you choose. Transport can be arranged to return you to your vehicle. 
We specialise in professionally guided expeditions. Our adventures include: canoe camping mini expeditions/holidays for families and small groups; bushcraft style expeditions; plus fully catered canoe glamping! 
Image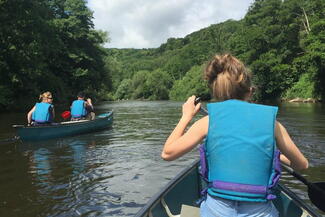 Hereford Canoe Hire - Hoarwithy
Meeting point: Tresseck Campsite Hoarwithy 
Our stretch of the Wye is ideal for both the novice and family or anyone who wants to experience this beautiful, quiet stretch of countryside. You can hire a canoe for any period from 2 hours to 5 days, so you paddle away at your own pace. 
Image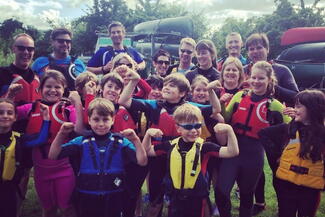 Hereford Kayak & Canoe Hire - Byecross campsite, Mocca
Based at the beautiful Wye Byecross campsite just up river from Hereford city centre, Hereford Kayak Canoes loves every about paddling. We specialise in canoe, kayak and stand up paddle board hire on the amazing river Wye offering hire, guided trips, taster sessions and group bookings.
Image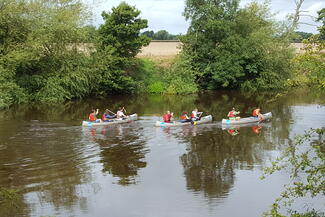 Lucksall Park Canoeing & Kayaking - Mordiford
Lucksall is perfectly situated on the banks of the River Wye, providing a great place for canoeing, kayaking and paddle boarding. From the Caravan Park there are two access points down to the River Wye both with a floating pontoon (depending on the time of the Season). If you have your own Canoe or Kayak, why not bring your own. You are welcome to use the pontoons during your stay to land or launch as you wish.
Image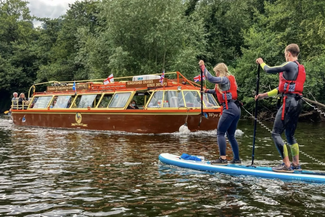 Paddleboarding Adventures - Symonds Yat West
Create magic moments with Paddleboarding Adventures on a paddleboarding adventure. Learn SUP skills with their friendly coaches. Dive into the tranquillity of SUP Yoga in an area of outstanding natural beauty and fuel the adrenaline with a white-water adventure.