Image
Image
Guest Itinerary:
3 Day Glorious Garden Tour of Herefordshire
Spend three days strolling around inspirational gardens, selected by writer Tamsin Westhorpe, plus tips for the best shops, pubs and a Michelin-starred restaurant.
It will come as no surprise that Herefordshire is home to many gorgeous gardens - after all, Monty Don, one of our most well known gardeners, lives here. We are blessed with great growing soil, established specialist nurseries and wonderful open garden. I've selected some of my favourites for this itinerary but there are many more to enjoy. Most of them sell plants, so be sure to travel with a few cardboard boxes in the boot of the car!
Local Champion:
Tamsin Westhorpe
Garden writer and gardener Tamsin Westhorpe shares the floral delights of our county. In 2020, she published her first book, A Diary of a Modern Country Gardener. She gardens at Stockton Bury Gardens.
Day 1
Start the day with a visit to the market town of Leominster. This is home to a plethora of antique shops. It is here that I find garden features and vintage items to turn into garden containers and so much more. If you are visiting from outside the area, you'll be overwhelmed by the choice and the value  – I can't resist a few hours searching for unique and one off garden/home features. 
Head north up the A49 from Leominster to Stockton Bury Gardens. After a coffee in the Tithe Barn café, stroll the 4-acre garden. Many of you will know the garden after seeing it featured in national magazines over the years. Enjoy lunch looking out over the award-winning cider orchards before visiting my next tempting destination. Just a stone's throw away is the National Trust's Berrington Hall. The garden and landscape here were Capability Brown's final work. 

 After a full day, I would recommend a meal at Pensons on the Herefordshire/Worcestershire border. This enchanting converted barn on the Netherwood Estate is the only Michelin-starred restaurant in the county. The produce is mainly local or grown on the estate. It's an absolute treat.
Image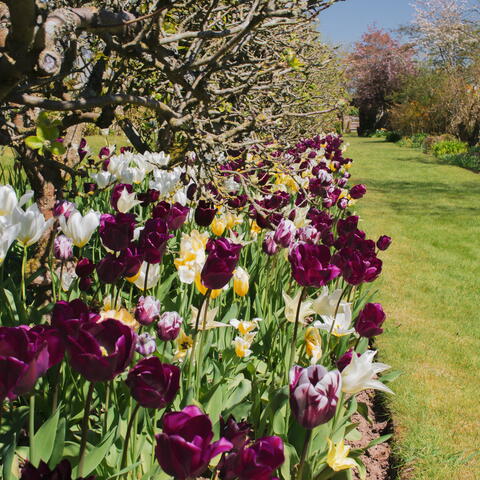 Day 2
Today we're travelling south. As I can't resist shopping for my home and garden, I suggest your first stop should be Bailey's Home Store. It's impossible to drive past. Inside you'll discover vintage garden furniture, lanterns, candles, trugs – you won't leave empty handed.

From here drive six miles to The Laskett Gardens. This garden is the creation of Sir Roy Strong and he has recently gifted the garden to the charity Perennial. On the way listen to my podcast Fresh from the Pod episode 8 in which I have a conversation with Sir Roy about his life and garden. For lunch, The Kilpeck Inn is a real find. Our next stop is Kentchurch Court. This house and garden has been in the Scudamore family for nearly 1000 years. Book in advance for a house tour and immerse yourself in history. If you enjoy old houses, then another Herefordshire delight is Hellens Manor (one of the most haunted houses in the country – are you brave enough?). Hellens also has a wonderful garden that children will adore.

 In the evening, indulge yourself with a delicious meal at the characterful Stagg Inn in Titley. Start your evening off with a glass of Herefordshire-made Chase gin and tonic or British Cassis. It's the perfect way to round off the day with the taste of the county.
Image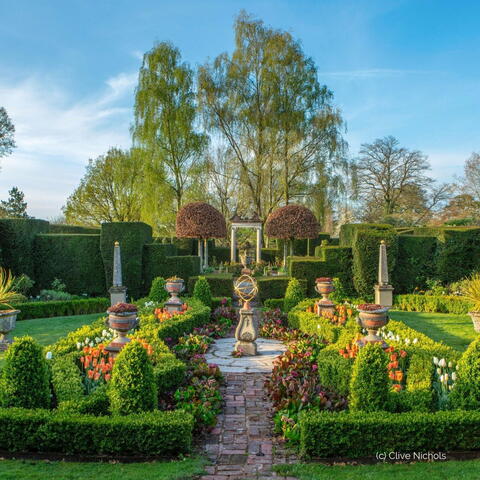 Day 3
Again I start with shopping! Wellington Home and Gardens just north of Hereford, is an independent garden centre and interior shop with temptations aplenty. Vintage furniture and features rub shoulders with plants. You can even grab coffee and cake here. Head through Hereford city and take the A438 to Stretton Sugwas and beyond. I'm taking you to Brobury House, a Victorian building that sits on the banks of the River Wye. The house is private, but the eight-acre garden is a delight and offers wonderful views of the river. 

Put on your walking boots and explore the footpaths near to Brobury. This really is the most stunning part of Herefordshire. If you are brave enough, why not hire a canoe and spend the afternoon navigating the water. Or, if you'd rather stay on dry land, opt instead for the riverside National Trust garden, The Weir. This is the perfect spot to relax and watch water wildlife. Time-permitting, pop into the Oakchurch Garden Centre and Farm shop on the A438 – if you are staying in self-catering accommodation then this is just the place to buy local produce.

After such an energetic day you'll be ready for a hearty feast. I suggest the 100% Herefordshire beef burger at The Beefy Boys, which sources all its meat locally.
Image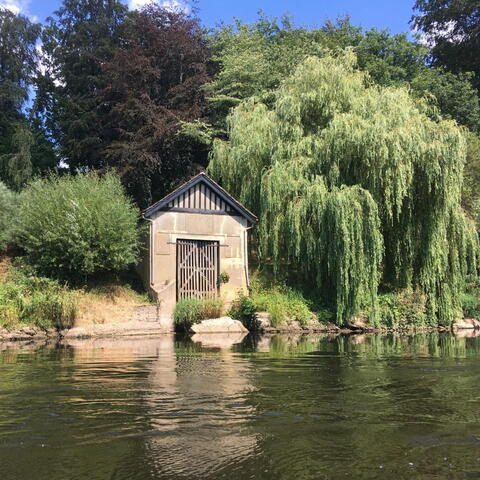 More Gardens to Visit