Image
Image
Itinerary:
3 Day Cultural Getaway
Heritage, architecture & contemporary creatives
If you're looking to explore fascinating history and architectural treasures, to discover contemporary arts and creative people, Herefordshire has rich pickings. Sure, it might be a little hidden, perhaps a little undiscovered - we don't hang our culture on the walls of white cube galleries - but it's real, it's welcoming and it's rewarding. This two-day itinerary offers just a glimpse of what's on offer.
Day 1 - Arts, Crafts and Architecture
Start your rural cultural adventure at arguably one of the most important Arts and Crafts buildings of the early 20th century - All Saint's Church in Brockhampton, a 15 minute drive from Ross on Wye or just over 20 minutes from Hereford city. Designed by Arts & Crafts pioneer W R Lethaby, who had been commissioned by an American heiress to build a new parish church in 1901, All Saint's is an eclectic and spectacular example of rural architecture. Take in the north window in particular, and tapestries made by the William Morris workshop.
You could take your mid-morning coffee break in the open air at Sellack Bridge, a 125-year-old (give or take) suspension footbridge that's a 15 minutes drive from Brockhampton. 
But if you're keen to stretch your legs, you can cross the bridge while walking between the churches of Hoarwithy, Kings Caple and Sellack - they are all worth exploring, and that's a trait of Herefordshire's hidden cultural gems. 
Check out these suggested walking routes
If you're close by, Kilpeck Church comes highly recommended with its extraordinary Romanesque carvings and connections to diarist Francis Kilvert. The church dates back to around 1140AD and once sat next to a Benedictine monastery. Take your time here, appreciate the creativity of these incredible carvings - look for the Welsh Warriors, dragons, angels, the phoenix and a sheela-na-gig (Google it!).
Next door to the church are the remains of Kilpeck Castle. Nature has been busy here, reclaiming the remnants of the structure you can still see today. The views are beautiful. Climb to the ruins, and take a breath.
Round out the day with a delicious dinner at The Green Man at Fownhope. The pub offers boutique rooms too, ideal for short breaks and weekends away.
Image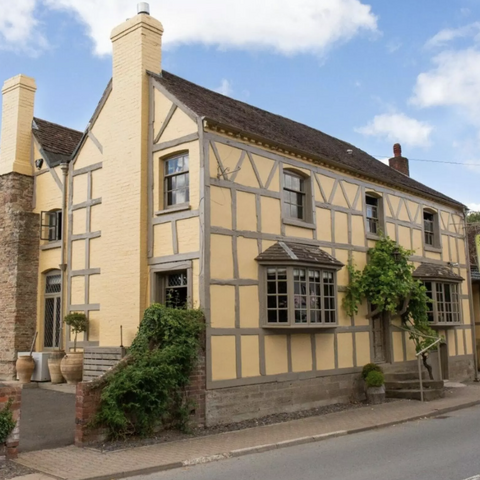 Day 2 - Castles and Creatives
Lace up your walking boots for a day exploring two of Herefordshire's most interesting Marcher castles and connecting with the county's creative spirit.
Longtown Castle is found in the beautiful Olchon valley, with magnificent views of the Black Mountains. A reminder that this land has long been subject to sparring Welsh and English identities, the first Longtown Castle dates from soon after the Norman invasion and was built to control newly conquered Welsh territory and defend the English borderlands from Welsh raiders. In the 12th century a wooden castle was rebuilt in stone, with a fine cylindrical keep – the castle's most striking feature – on top of the motte. Little now survives of the stone walls that defended the inner and outer baileys of the castle, but there's something in the atmosphere here that tells of long past lives and adventures.

Before you head north further into the Golden Valley, schedule a stop at Dore Abbey. Colonised by monks from Morimond Abbey in France, the abbey was one of the great Cistercian monasteries of England and is now an impressive parish church. The Renaissance screen is particularly awesome, and I've always been fascinated by faded medieval wall paintings, memories of moments past. Photos you find online of Dore Abbey don't do it justice.
Image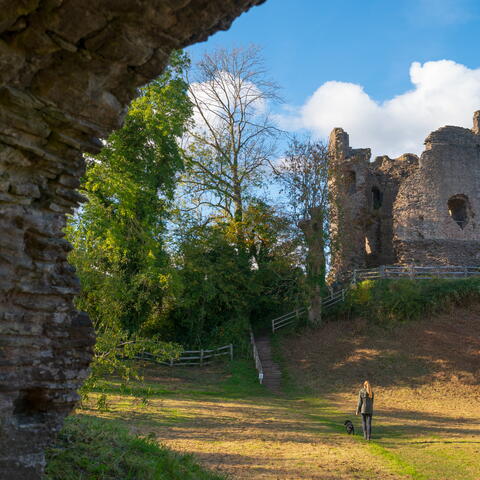 Day 3 - The Magical Golden Valley
Before taking a scenic short drive north to Snodhill Castle, schedule a stop for coffee and slab of cake at The Hub at Peterchurch. This is a thriving community space complete with regular events, a library, and the excellent Hub Cafe.
Next park the car in the village of Dorstone and take a leisurely one-mile walk to Snodhill Castle, another treasure lying off the beaten path. While there is parking available on the verge adjacent to the castle, the short and pleasant walk is preferable. 
Written historical sources reveal very little about Snodhill's landmark but we know it sits close to a Medieval deer park and has been a romantic ruin since the 16th century. In recent years it has been called the biggest castle no-one's heard of after archaeological investigations of 2019 and 2020 suggested that Snodhill was impressive in scale and innovation. Experts believe it boasted a second keep - an almost unheard of feature, and is actually the fourth oldest Norman stone castle in the whole of Britain.
From here, end the day in Hereford or Hay-on-Wye. Hay is internationally famous for its secondhand book shops and independent spirit. This very special market town on the English-Welsh border is overflowing with artisanal and Bohemian flair. Locals are creatives, shops and restaurants are on-trend.
In Hereford, the city's creative character is best expressed, and deliciously discovered, through its blossoming indie food and drink scene as well as through local cultural happenings. Be sure to look ahead at what's on as the city regularly hosts independent festivals, contemporary exhibitions and art pop-ups that should not be missed.
Image