Image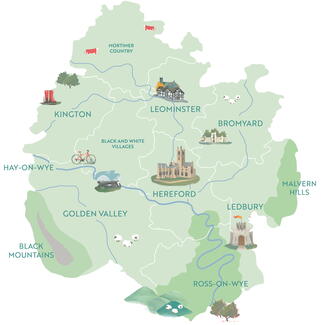 Getting Around
Image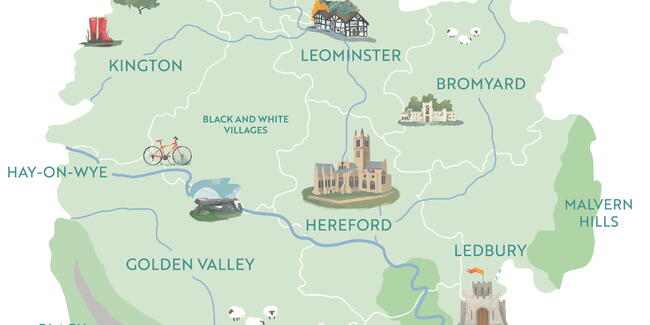 Explore Herefordshire
Herefordshire is a small, green county which is easy to get around.
For those who want to enjoy the great outdoors, there's plenty of places to explore on foot, on bike or even by canoe.
Trains run between Hereford and a some of the pretty market towns whilst the bus service criss-crosses the county.
If you are travelling by four wheels, then you may be interested in our electric car charging points. Electric  and petrol cars are also available to hire. 
Below is a little information to help you in your planning and don't forget your accommodation provider may well have top tips to share too.
Cycling
Herefordshire is a great place to get out and about on a bike, with so many small rural lanes, with low traffic levels the county is perfect for cyclists. In the city of Hereford there is a network of Cycle Paths.
Bike Hire: 
Why not explore further by following the Cider Circuits
Beryl Bikes
Beryl Bikes have arrived in Hereford! It is now easier to travel around Hereford by bicycle, thanks to the introduction of an easy to use bike share scheme in the city.  The scheme has 150 Beryl Bikes available from 40 Beryl Bays, which are the distinctive green marked bays located around the city.
Walking
Walking is a great way to explore Herefordshire and the county benefits from some great walks and trails including circular and national routes. For suggestions on great walks, from an hour's scramble to a full week of walking on the Herefordshire Trail, and the Herefordshire Walking Festival read more here. 
Driving, Car Hire & Parking
Hiring a car is a great option and Herefordshire has plenty of providers to choose from. Thrifty is just a ten minute walk from Hereford train station, and can offer electric cars too. Other providers include L.T. Baynhams and Enterprise, while visitors travelling to Leominster might like to use Oldfields - fifteen minutes by foot from Leominster train station.
You can find information about car parks, electric car charging points and on street pay and display on the Herefordshire Council Website.
You may also find useful to use Go Compare's interactive tool to find the best fuel prices locally.
Electric Car Charging
We support the use of energy efficient and low emission vehicles and there are now 13 electric vehicle charging points in 11 locations across the county.
Drivers of electric or hybrid vehicles that need to plug in and charge can get a free 30 minute parking ticket to display in their vehicle at council-owned, off-street car parks.
Electricity at these charging points is also free.
Autotrader has a UK-wide map of charging points and aims to help EV drivers locate and navigate to available charge points.
Bus Services
You can plan your bus journey, find bus timetables and get updates on the latest services on the Herefordshire Council Website. Along with bus routes throughout the county, including Hereford and all the market towns.