Image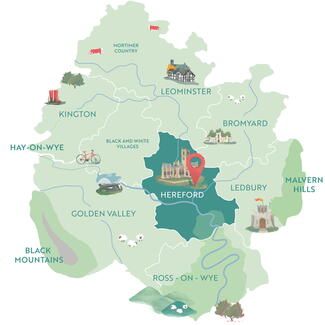 Hereford City
Iconic cathedral. Exciting restaurant scene. Hugged by the River Wye.
Explore all corners of the county from its historic heart

Enjoy lively independent shopping

Stay at fabulous

historic hotels

Relax on riverside strolls

Discover vibrant cultural life
Image

Hereford sits right at the heart of the county, on a loop of the River Wye. The golden-stone cathedral, with its medieval Mappa Mundi and Chained Library, is a huge draw – but you can also wander among half-timbered houses and stroll along the Wye. Browse independent shops across the city – they're clustered along quirky Church Street – and explore the Old Market, transformed into an open-air destination for shopping, dining and cinema. For more arty excitement, head to The Courtyard Hereford for theatre, comedy, workshops and more.
Love Your Hereford City Break
Image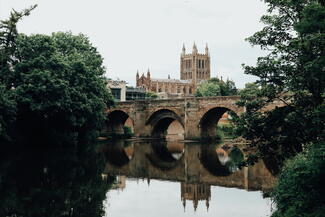 Record-breaking Cathedral
Hereford Cathedral is home to two record-breakers. Here you can view the incredible Mappa Mundi, the largest surviving medieval map of the world – made about 800 years ago, it reveals how history and geography were understood in Christian Europe in the late 13th and early 14th centuries. You'll also find the biggest chained library on the planet, dating from a time when books were so precious that they had to be locked up! Outside, a statue depicts Elgar leaning on his bicycle and gazing up at the cathedral – he wrote many of his major works while living in Hereford.
Image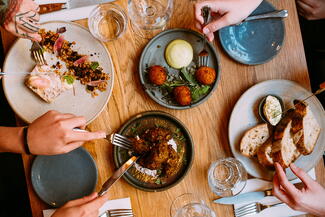 Gourmet Adventures
A fresh generation of chefs in Hereford, passionate about local produce, serves up superlative food. Favourites include fine steaks at The Bookshop, Italian flavours at Cotto and Ponte Vecchio, award-winning burgers at The Beefy Boys and The Burger Shop, flower-sprinkled brunches at Sensory & Rye, traditional flavours with a twist at The Den and The Hereford, and luxurious afternoon tea at Castle House Hotel.
Image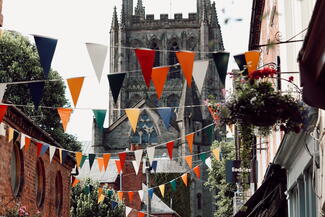 The Independent Quarter
Tucked away near the cathedral you'll find the Independent Quarter, centred around cobbled Church Street and East Street. Browse designer-makers, art galleries and fashion boutiques, a store dedicated to all things 'bees', and the tempting Mousetrap Cheese Shop. You'll find lifestyle boutiques aplenty, too – discover Printer and Tailor, Fox and Mabel, and Camperdown Lane. We defy you to leave without a fabulous purchase (or three)!
Explore Hereford
Image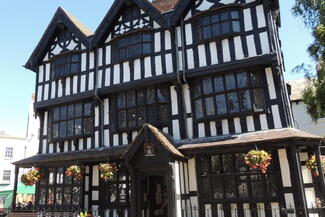 The Black & White House Museum
This remarkably well-preserved 17th-century timber-framed building in the heart of Hereford is decked out with period furnishings and artworks, offering an insight into everyday Jacobean life.
Image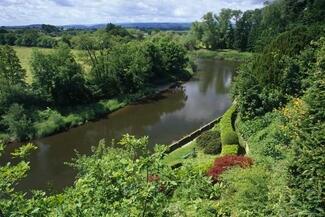 National Trust The Weir Garden
Explore a lush woodland garden on the banks of the River Wye, only a short drive from the city centre. Tiptoe along trails flanked by snowdrops and bluebells in the spring, and take a picnic to munch in the River Meadow.
Image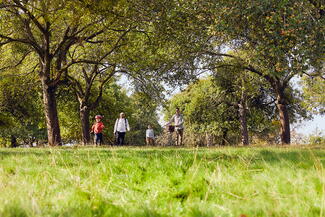 Take a relaxing stroll from the city centre into the countryside, following the River Wye to Breinton Springs along a path between sloping woodland and cider orchards. Springtime is particularly special here: trees are decked with blossom and bluebells carpet the woodland. On your return to town, stop in at the Museum of Cider to explore the fascinating history of Herefordshire's top drops.
Read More
Image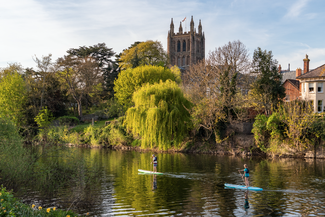 The River Wye, which meanders through Hereford, is a watery wonderland begging to be enjoyed. Find your feet on a stand-up paddleboard half-day adventure, including training at Byecross campsite and a float downstream from Bredwardine Bridge. Or spend a magical day canoeing along the river to Hoarwithy, passing idyllic villages and lush countryside en route.
Read More