Image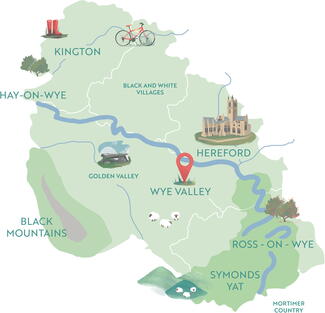 The Wye Valley
Walk, Cycle & Canoe The River Wye
Gorgeous spot, an Area of Outstanding Natural Beauty
The birthplace of tourism
Perfect for outdoor adventures
Abundant wildlife
Pretty market towns & villages 
Straddles England & Wales
Image



The Wye Valley is a rural retreat with some of the most breathtaking landscapes in Britain. As well as the dramatic scenery and wonderful wildlife that come with being a protected Area of Outstanding Natural Beauty, you'll find an abundance of family-friendly outdoor adventures including cycling, kayaking and walking. In fact, it was here, in the market town of Ross-on-Wye, that tourism as we know it was invented. Over 250 years later, the lure of the Wye Valley is just as strong.
Image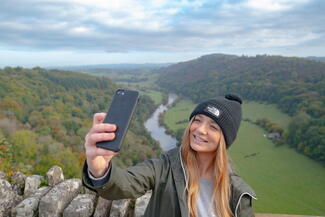 Breathtaking Views
Find your favourite look-out point! For the Wye Valley's most iconic view, head for Symonds Yat Rock to see the river meander in a huge loop, hundreds of feet below. The Prospect in Ross-on-Wye overlooks the river's horseshoe bend and out to the Welsh mountains - it was designed by the philanthropist John Kyrle who believed all residents should be able to enjoy the view. Over at Coppett Hill, near Goodrich, you can gaze across to six counties on a clear day.
Image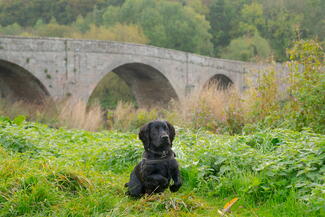 The Mighty Wye
The River Wye is best surveyed from a canoe or Stand Up Paddleboard. Grab the gang for a half-day paddle or a guided trip.  Perhaps you would prefer a longer adventure, stopping at campsites and B&Bs as you make your way downstream. Take a refreshing dip at Kerne Bridge and book a guide if you are keen to uncover the Wye's top wild swimming spots. In the shallows, little ones can feel the surprise of cold water running over their toes. 
Image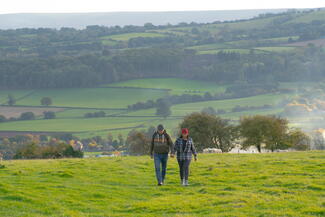 Walking for Miles
Criss-crossed with routes, the Wye Valley invites walkers on easy ambles as well as long-distance leg-stretchers. The linear trail from Ross-on-Wye to Kerne Bridge leads through woodland that was once a hive of industry. Timber would have been transported along these tracks and you'll spot many little cottages, originally the homes of blacksmiths, carpenters, coppice-workers and wheelwrights, as well as views of Chase Wood Hillfort and Goodrich Castle.
Explore Near The Wye Valley
Image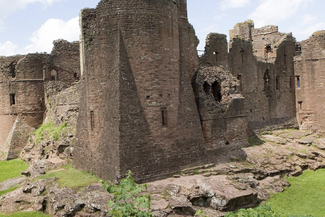 Goodrich Castle
Standing in open countryside above the River Wye, Goodrich Castle is one of the finest and best preserved of all English medieval castles. Boasting a fascinating history and amazing views from the battlements. Learn about the famous Civil War Siege; see the murder holes built into the castle walls and admire the stunning stained glass window in the 13th-Century chapel. Be sure to see 'Roaring Meg', the only surviving Civil War mortar, and the cache of cannonballs.
Image
Lea and Paget's Wood
This ancient woodland in the lovely little village of Fownhope offers shady seclusion. Walk its dappled paths in spring when the bluebells, wood anemones, primroses and yellow archangels are in most spectacular bloom. Bring your binoculars and go bird-spotting - our winged friends love it here. You might even spy the three resident species of woodpecker!
Activities in The Wye Valley
Image
Take the kids on a mini adventure in a Canadian canoe, gliding from Kerne Bridge to Symonds Yat with plenty of time for wildlife-spotting and picnicking.
Read More
Image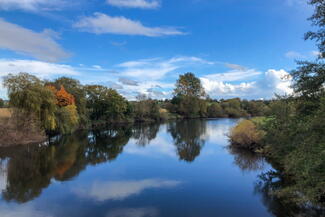 Follow an idyllic three-mile loop exploring one of the River Wye's most beguiling stretches.
Read More