Insider's Guide to Paddleboarding the Wye
Karen Maidment of Paddleboarding Adventures shares the joys of stand-up paddleboarding (SUP), from wildlife watching to whitewater paddling
Image

4th June, 2021
Who can enjoy SUP? Pretty much anyone! Small children under eight share a board with their parents. When paddling on the river, children should be able to swim unaided, though they will always be wearing a buoyancy aid. But almost any age can SUP. We've had lots of grandparents bringing their grandchildren, which is amazing – three generations of families on the water together!
How easy is it to learn? And is it safe?
It's certainly very accessible in terms of a base level of skill – to get on a board and make it move is pretty easy. You don't need to be particularly fit – it's more about confidence initially. With a good instructor, who's worked with lots of different types of people, you shouldn't have a problem at all. SUP is a booming business, and there are so many different styles of boards now that we can accommodate all levels of ability and physical restrictions.
Do I need special equipment or clothes?
No. We provide wetsuits, buoyancy aids and all the other safety kit you need on the river. We advise boarders to wear old trainers – water levels on the Wye can drop really quickly, so wearing shoes helps protect toes in case you take a dip in the river.
Image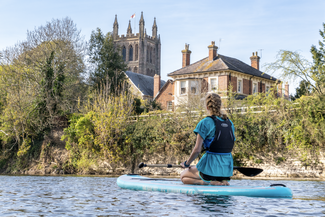 Image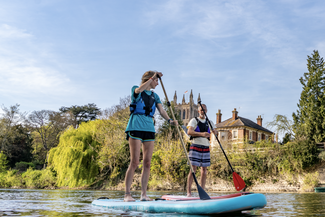 What's a beginner's session like?
It's about two and a half hours long. The first 20 minutes or so is on land, doing a quick paddleboarding 101 – where's the front of the board, the back, where's the best place to stand, which way does the paddle face – so people have a base level of knowledge before getting out onto the water. We spend a bit of time coaching, then we play some fun games to drill in the basic ideas, and to perfect skills such as turns. Of course, we finish with getting as many people wet as possible! 
It's all about building confidence, particularly for adults – our ego often gets in the way, and we get nervous about feeling silly or making a fool of ourselves trying something new. So the instructor usually makes a fool of themselves first, getting completely wet and showing beginners what it's all about, so that participants don't mind when it happens to them.
How is SUP good for you?
It forces us to slow down. I think most adults, and even older kids and teenagers, are feeling that life moves so quickly these days – there's barely a chance to pause and take a breath. Paddleboarding encourages that slowing down, noticing the subtleties of what's going on around you. When you're standing on the paddleboard, you have to be very aware of how the water is moving beneath you if you want to stay dry – and people do want to stay dry, for the most part! So there's that sense of just being more aware – and that leads to increased mindfulness by proxy. 
The thing I really love about paddleboarding on the river is the fact that nature doesn't seem to mind you being there. There's something about the way the board glides through the water, and the paddle enters very gently – the whole experience is quiet and calm. 
I've done a lot of one-to-one coaching with people with mental health issues, helping with problems like anxiety and depression. Those people often come with a very low level of fitness as well as a low level of confidence. We spend much of each session kneel-paddling, sitting by the side of the bank, talking things through, helping them get on and off. It's an absolute joy to see people who probably wouldn't feel comfortable in a group environment, or who don't necessarily think that they are the right shape, size or fitness, being able to come and try that activity safely and with fun.
Why is it special on the Wye?
SUP is a wonderful way of watching wildlife. Where we are, at Symonds Yat, in spring there are nesting swans, Canada geese are moving around, there are lots of little ducklings on the water – you can get super close to nature. Last season I was teaching paddleboard yoga when two little ducklings hopped onto my board! It's a real immersion in nature.
Image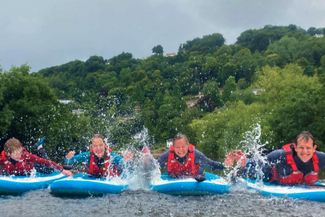 Image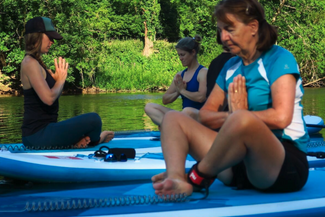 What kinds of experiences can I enjoy on SUP?
All sorts! You can SUP whitewater, which is a whole different scenario – helmets on, kneeling. We have rapids just a 10-minute paddle from our HQ at Symonds Yat West. In the right places, you can SUP surf or windsurf. We offer SUP yoga, too. The discipline of paddleboarding is really growing and diversifying. 
There are tandem paddleboards, and we even have a mega paddleboard that takes up to eight people! We run trips from Kerne Bridge to Symonds Yat, where we send a group off on an adventure on the megaboard, with a picnic hamper packed with a lovely afternoon tea.
We offer a full-day guided wildlife safari from Ross-on-Wye to Symonds Yat – we provide paddlers with their own binoculars and do a beach clean, as well as stopping off for s'mores and a wild brew halfway down. We're planning a multi-day SUP and camping expedition along the Wye for autumn.
And we run a weekly evening social paddle – people pay between £5 and £15, whatever they can afford, and 100% of that money goes to The Wave Project, a charity that supports young people with mental health issues by teaching them to surf and be in and on the water. Or you can just hire a board and gear, and we'll set you off on the river!
Which are your favourite stretches on the Wye?
The most popular one is the half-day paddle from Kerne Bridge to Symonds Yat, which takes about three hours. But our favourite is the full-day section from Symonds Yat to Redbrook; it's absolutely gorgeous, paddling past Biblins Bridge and down the valley – there's so much history, and the nature is just stunning. That's for experienced paddlers – there's a set of Grade 2 rapids and lots of Grade 1 rapids, with lots of fun stretches to play on.
Paddleboarding Adventures is based at Symonds Yat West.