Antiques Hunting in Leominster
Shopping temptation in Herefordshire
Image

15th June, 2021
For centuries, highly prized wool from local Ryeland sheep brought wealth to Leominster, their fleeces dubbed "Lemster Ore" (Leominster Gold). But today this atmospheric little Saxon town is one of Britain's brightest beacons of antique and vintage shopping temptation.
TV shows like Antiques Road Trip and Bargain Hunt regularly follow the path once beaten by medieval and Tudor merchants, unearthing storied covetables amid a beguiling melange of narrow lanes and Tudor houses mingled with gracious Georgian terraces.
Broad Street is the perfect place to begin any dive into Leominster's antique scene, its striking historic buildings like Doctor Who's TARDIS in the way deceptively modest exteriors conceal vast interiors. Behind slim Georgian facades, higgledy-piggedly mash-ups of nooks large and small across several floors offer browsing paradise.
Image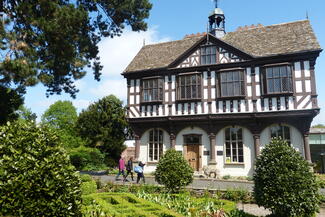 Image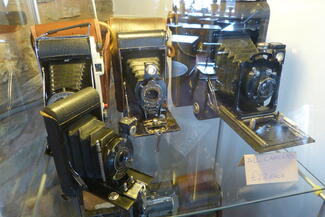 "Leominster is full of odd-shaped buildings like nowhere else – wonky and organic!," says Annie MacDougall at No.14 Antiques, where aged objects are complemented by modern eco products. It's a combination which nods to the idea that buying historic design is sustainability embodied in beautiful objects. "Bringing new life to something old and characterful rather than using precious resources to endlessly make something new," Annie says.
Leominster Antiques Centre is another magical warren behind a slender frontage, with the unexpected bonus of a gorgeous walled garden dotted with antique salvage that appears magically through a door at the back. "Leominster is interesting round the back of buildings, because you can really get a look at the medieval and Tudor template that was here before people added Georgian facades," explains Helen Richards, who oversees the shop with Mark Phillipson.
They see the diversity of Leominster's antiques trade – around 120 dealers sell throughout the town - as offering something for all-comers. "There are people who come seriously 'on a mission'," says Mark. "But also people inspired by Bargain Hunt, other dealers from all over the country, plus people on a day trip to the area wanting to combine a 'National Trust' experience with some shopping."
The TV effect is highlighted too by Stephanie Castell at the cavernous Secondhand Warehouse and Antiques Centre on New St, a regular stop for the likes of Bargain Hunt and Antiques Roadtrip for its wide-ranging antiques cornucopia.
Image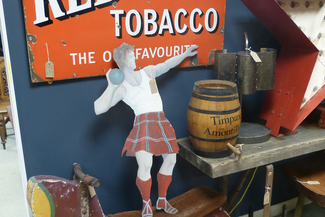 Image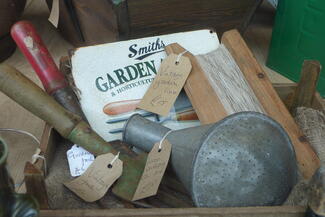 Just across the road, The Barometer Shop couldn't be more different in its niche celebration of  antique weather predictors and hypnotically ticking grandfather clocks. Exquisite decorations complement their loving craftsmanship. "The people who made many of these did everything themselves in terms of making each element," says owner Colin Jones.
A very different specialist shop is War & Son, which puts a whole new perspective on militaria. For co-founder Steve Nuwar, objects from past conflict uniquely embody powerful human stories, be it a 19th century revolver owned by an immigrant journeying through the US Wild West, or decorated Christmas tins given to families of British soldiers in 1914.  It's a perspective he and his father Dave shared in the TV series History Hunters on the Yesterday channel. "We try and do justice to each thing – and to the person who earned it, wore it, used it," says Steve. 
Every place I go offers something to desire or admire: vintage cameras, glass and textiles at Merchant House Antiques; contemporary ceramics, steampunk style and retro tech at Lugards (though the old shop sign Step In Time remains over its door); Denby pottery at The Antique Market; vinyl and music/advertising memorabilia at Leominster Antiques Centre; vintage and cleverly upcycled lights at The Light Shop. 
Furniture and décor items from the 16th to 19th centuries are the draw at Stockmoor Antiques, where owners James and Merlys also highlight the unique spaces offered by Leominster's buildings as a factor in the town's antiques boom. "It allowed a lot of dealers to get started," says James. "But the town has been a long-time staging post for goods coming out of Wales. People bought and sold antiques in the 19th century too!"  
Image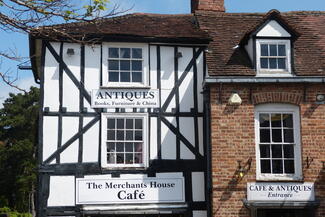 Image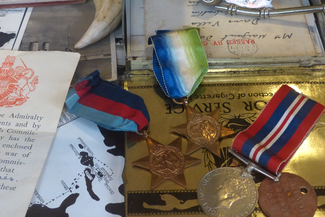 Annie MacDougall agrees that location has helped Leominster evolve into the brilliant antiques beacon of today. As well as being set on historic north-south and east-west crossroads, she points to a mix of grand houses and farms all around that have provided a rich and steady source of stock. "When fashions changed or a thing fell out of use they would offload stuff – which means a wide variety of antiques."
Annie also speaks warmly of Leominster's welcoming air, and the way it prizes distinctiveness. She recalls the easy acceptance she felt  in her early trading days, as "a six-foot tall woman in black leathers rocking up on a motorbike". And how many antique meccas channel that sort of vibe? 
With thanks to freelance journalist, Norman Miller.