Visit Hay Festival, Stay in Herefordshire
City stays & country getaways only minutes away from Hay-on-Wye
Image

11th April, 2023
The literary town of Hay-on-Wye lies on the border between England and Wales and is the perfect holiday spot. During Hay Festival, accommodation can be hard to come by but neighbouring Herefordshire has plenty of easy alternatives, from city stays to country getaways. Even better, the transport options are super convenient whether you want to travel by bike, bus or car.
Hereford: Historic City Stays
Hereford is a tiny city which is full of character and history. Take your pick from two stylish hotels The Green Dragon and Castle House which both have comfortable rooms, great service and are convenient for the famous cathedral as well as the independent shops on Church Street. 
A short walk will take you to the train station - the closest one to Hay-on-Wye. Buses run daily from here to the Festival (see Getting to Hay below) or enjoy the rather lovely half hour drive. 
Return in the evening for a stroll along the  river before sampling the thriving foodie scene at local favourites such as The Bookshop, Ponte Vecchio or the Beefy Boys.
Discover places to stay in Hereford.
Image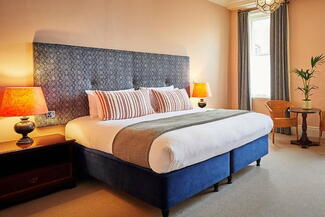 Image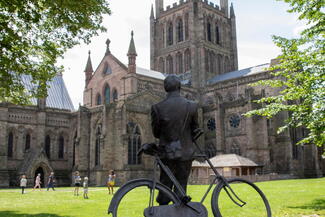 The Golden Valley: Rural Retreats
The Golden Valley is an untouched rural idyll, perfect for escaping the festival hustle and bustle.  
Just ten minutes' drive away is Drovers Rest which offers free-range farm stays in luxurious glamping tents  and characterful cottages. The hosts put on free farm tours and serve spectacular feasts cooked on open fires. Hire a bike from Drovers Cycles to arrive in Hay in around 35 minutes - even faster if you opt for an e-bike! 

Another super spot is the pretty village of Dorstone - less than fifteen minutes' drive or a 37-minute bike ride from Hay-on-Wye - it makes an ideal base for the Festival. Popular B&Bs include Old House Farm and Breese Barns, while the Outshot Barn provides a stunning self-catering option, complete with contemporary design and an outdoor pool. Or try the luxe pods and lodges at Cynefin Retreats.
 
Take time out from the Festival with a trip to neolithic burial chamber, Arthur's Stone, which predates Stonehenge by an entire millennium. Or, explore Herefordshire's tasty cider scene, by visiting Artistraw, Gwatkin Cider or  Ty Gwyn Cider to sample their delicious  wares. For eating out, The Bull's Head in Craswell is an excellent option or try the popular bistro Food For Thought in Peterchurch which has a particular reputation for its desserts.
Find places to stay in the Golden Valley
Image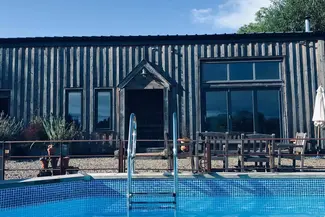 Image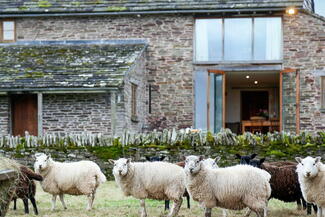 Image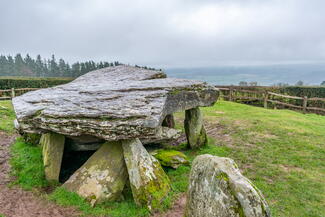 Kington: Perfect for Walkers
A 25 minute drive north-east of Hay-on-Wye brings you to the characterful town of Kington which offers a calming escape and  a slower pace of life. Cyclists can reach Hay-on-Wye in about an hour and a half.

The Burton Hotel offers excellent accommodation in central Kington. Complete with views of Hergest Ridge, the hotel also offers a pool, spa and gym for the ultimate relaxing experience. Alternatively book Church House B& B, a spacious Georgian pad, offering a warm welcome, or the cosy Walking Hub B&B.
Kington is the starting point for beautiful walks, many of which take in the dramatic Hergest Ridge, home to wild ponies. Other nearby entertainments include the Small Breeds Farm Park and Owl Centre and Hergest Croft Gardens with its stunning backdrop of the Black Mountains.
Image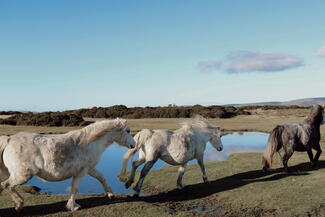 Image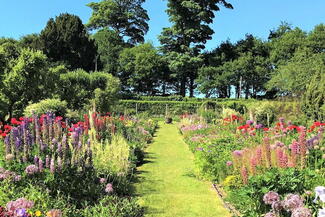 Image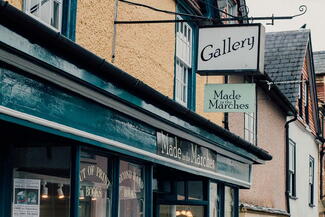 Getting to Hay Festival
Hay-on-Wye is situated just off the A438 between Brecon and Hereford. The Festival is well signposted. The nearest railway station is Hereford, 21 miles away, and Hereford bus station is also served by National Express coaches. 

There is never a shortage of parking at the Festival as extra car parks are opened, all of which are well signed on approach to the town. For parking information, click here.

Car sharing is actively encouraged. To connect drivers with spare seats and those needing help getting to Hay, the Festival partners with goCarShare, BlaBlaCar.com and Liftshare. 

The Hay Festival Bus is a special service which runs from Hereford with ten buses each way every day. £14 adult day return, £8 child day return, £34  family of four.  Catch the bus at Hereford train station. See timetable here. 
Alternatively the T14 runs weekdays and Saturdays, calling at Hereford, Dorstone, Peterchurch and Vowchurch, which opens up the Golden Valley as an accommodation option. See timetable here. Meanwhile, the 39a runs on Sundays, see timetable here.

Much of the accommodation in the Golden Valley, such as Drovers Rest is only a short bike ride from Hay-on-Wye. And a cycle park is available on the Festival site. 
Drovers Cycles offer free bike delivery across the Golden Valley, with bikes to suit all tastes, including electric bikes. 

Taxi share scheme is available from:
A2B Taxis 01874 658 899
Booktown Taxis 07881 726 547 
Radnor and Kington Taxis 01547 560 205 | 07831 898 361
Hay Bus Hay Taxi 01497 820 444 | 07974 106 656 

Other local providers include:
HiTown Taxis 01432 354 321 
Hereford Karl's Taxi 01432 381 231
Hereford Rank Taxis 01432 278 279