Best Places to See Autumn Colours
Calling all leaf peepers, garden lovers, leaf kickers, conker collectors and happy hikers!
Image

6th September, 2021
Here's our pick of the best places to soak up autumn colours in Herefordshire. Tour woodlands, open gardens, arboretums and the Wye Valley Area of Outstanding Natural Beauty for glorious seasonal walks (or even a paddle).
Hergest Croft Gardens
Enjoy the fiery blaze of autumnal colour at this 70-acre garden near Kington in north Herefordshire. Stroll around the dazzling Azalea Grove, Maple Grove and Park which have been created over 120 years by four generations of the Banks family. With over 5000 rare plants, trees and shrubs, Hergest Croft Gardens grows many maples which cannot be found anywhere else in the UK. Here in the heights of North Herefordshire, soak up stunning views across the Malvern Hills and the Black Mountains. Visit the Maples Tearoom for a locally-sourced lunch and call by the conservatory to buy unusual plants. 
Open through to Sunday 31st October, from 11.30am to 5.00pm
Dogs on leads are welcome

More Info
Queenswood Country Park & Arboretum
Queenswood's incredible kaleidoscope of colour comes from around the globe with zingy yellows and bright reds glowing from October to November. The season starts with Japanese Maples, then berry-bearing Rowans, exotic Oaks, American Maples and then Maples from the Caucasus and Asia. Later the Californian Redwoods and our native woodlands take centre stage. Grab an Autumn Tree Trail leaflet from the visitor centre to help identify your favourites.  Children will also love roaming the woods and playing in the adventure playground, followed by a hot chocolate in the cafe. 
Open every day, from dawn til dusk
Dogs are welcome

More Info
Image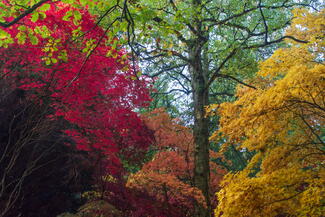 Image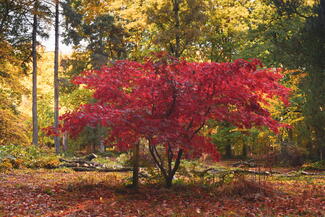 National Trust Croft Castle & Parkland
Planted in the heart of historic woodland, Croft Castle & Parkland is a lovely location for colourful autumn walks. The Fishpool Valley is especially atmospheric - follow the winding paths, surrounded by  stunning oaks, beeches and chestnuts. Along the way, the trails pass pools, small dams and cascades. Whilst the adults admire the views and the Gothic Pumphouse, children will find plenty to amuse, from kicking up leaves and building dens to hunting for conkers and visiting the natural play area.
Open through to 31 October, from 9am to 5pm (park), then 20/21, 27/28 Nov from 10am to 4pm
Dogs on leads are welcome (in park)
Symonds Yat 
As you might imagine, this designated Area of Outstanding Natural Beauty puts on a spectacular show every autumn. Head to Symonds Yat Rock to soak up the iconic view over the River Wye and the surrounding ancient woodlands. And keep an eye out for the resident peregrine falcons, they are a magnificent site. Other favourite spots to enjoy the seasonal blaze of colour include Goodrich Castle and Coppett Hil, both perfect vantage points to look out upon the glowing sweet chestnuts, beeches, oaks, hawthorns and ash. Stroll to the iron-age hill fort or enjoy the display from a different perspective by taking a paddle downstream in a canoe. Afterwards, warm up over lunch in one of the cosy riverside pubs.
Open every day, from dawn til dusk
Dogs are welcome
National Trust Brockhampton
Autumn at Brockhampton is magical. The season starts with the damson harvest, picked from the mature trees surrounding the pretty half-timbered historic house. Then as the apple trees become heavily laden with fruit, the trees start to gently fade from green. Myriad reds, oranges, yellows and browns transform the woodland. Take a way-marked walk through the glorious 1700-acre estate, through woods, into dingles and beside streams. Or follow the 'Fantastic Fungi' trail to see how many varieties you can spot, from bright red toadstools to magnificent displays hanging from trees. Walk further into the estate to see the farmers harvesting wheat and barley for a truly seasonal experience.
Open til end November, 10am - 5pm (grounds & estate)
Dogs on leads are welcome

More Info
Image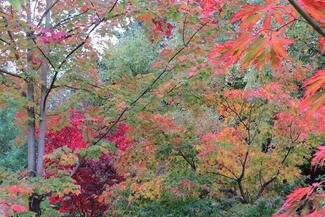 Image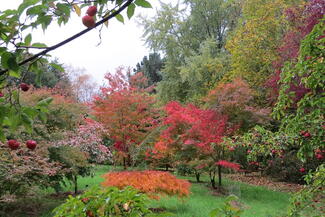 Brobury House Gardens
Situated on the banks of the River Wye, by the picturesque Bredwardine Bridge, Brobury House Gardens is designed to be enjoyed in all seasons. The Victorian terraced garden offers a profusion of colour which extends from the striking stand of paper birches to spectacular late-flowering blooms. Michaelmas daisies are an autumnal favourite as well as dahlias, herbaceous shrubs, cornus kousas and late roses. Enjoy panoramic views across the Black Mountains and relax in the pop-up cafe (open til end October).
Open daily & year-round from 10am - 5pm
Dogs on leads are welcome
Moors Meadow Garden
An enchanting spot on a hillside overlooking the Kyre Valley, the 7-acre Moors Meadow Gardens is tended by an avid plantaholic. Wind along the paths to take in the stately Giant Redwoods, the Oak Circle and countless vivid autumnal shades. Dotted with seats and sculptures, it is a tranquil garden, packed with rare species to delight fellow plant fans. Tours with the head gardener can also be booked to gain a deeper insight into the planting and plot.
Open year round by appointment