Top 8 Adventures in Herefordshire
Thanks to its wild landscapes, Herefordshire is the home of outdoor pursuits
Image
11th May, 2021
Canoe or paddleboard along the River Wye; run across high mountain ridges; tackle steep climbs and rolling hills on foot, by bike or four-wheel drive; grab your golf club or go axe-throwing.
1. Scale the Cat's Back
Why walk when you can run, right? Get your heart pumping and your legs burning as you run this rocky ridge in the Brecon Beacons. There's dramatic views of England on one side and Wales on the other to help keep you motivated. Look to the skies when you pause for a slurp of water to see red kites and buzzards. You may even spot a grazing wild mountain pony too. View the Hills of Herefordshire. 
2. Canoe Odyssey
For a real adventure, spend a week canoeing downstream from Hay-on-Wye through Herefordshire, camping beside the river or staying at country pubs as you go. Voyage from the renowned book town to Hereford Cathedral and on to Ross-on-Wye. Spot swans and herons, even kingfishers and otters en route. Pass Goodrich Castle and the limestone cliffs which are home to the Peregrine Falcon before finishing your journey with a well-deserved pint at Symonds Yat. Contact Hereford Kayak & Canoe Hire and Hereford Canoe Hire to book. 
Image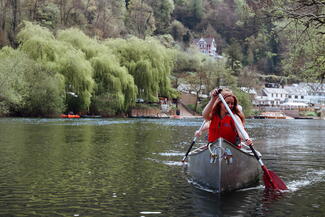 Image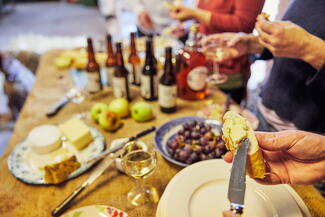 3. Cycle the Cider Circuits
Take your pick from Herefordshire's three Cider Circuits which tour the county's best craft cider producers, revealing stunning landscapes along the way. Pedal steep climbs and rolling hills, drink in the dramatic views and sample fantastic ciders. Meeting the makers is a delight - they all have a secret to share! Each of the circular routes is 48 to 59 miles long, so either complete in one go or stay in charming market towns along the way.
4. Tackle all Terrains in a Land Rover
Push your driving skills to the absolute limit at Land Rover Experience. The 66-miles of trails through the beautiful grounds of Eastnor Castle feature steep slippery inclines, articulation tracks, ruts, open ground and deep water. In fact, this terrain is so varied and challenging that it's been used for decades as a secret test facility to refine the off-road capacity of every new Land Rover.
5. Tee off from England's Highest Golf Course
Rising to 1248ft above sea level at its highest point, Kington Golf Course combines excellent play with stupendous views over seven counties. Set in National Trust land, the panorama takes in the Brecon Beacons, the Black Mountains and the Malvern Hills. Perfect for newbies and old hands alike, it is known as one of the finest natural inland links golf courses in the country. And it ranks No 3 in this year's Golf World Top 100 Courses under £60.
Image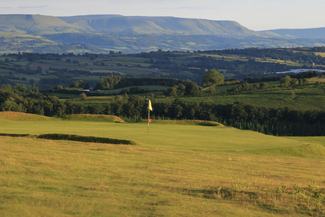 Image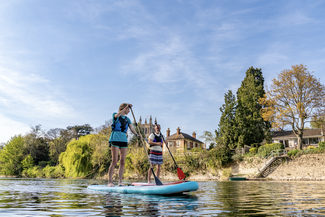 6. Survey the Wye from a Stand Up Paddleboard
Sign up for a half day glide down the River Wye on a SUP by YOFI Paddlesports. It's one of the fastest growing sports in the world and it's easy to see why. Simply breathe in the fresh air, paddle quietly downstream and feel at one with nature. With just the birds and butterflies for company, it's a magical way to get to know a new destination whilst packing in a full body workout. Eat a picnic on a riverbank or refuel at Ye Olde Ferrie Inn in Symonds Yat. View the canoing 
7. Release your Inner Viking
If work is getting you down or you're feeling stressed, then we have the answer: a spot of axe-throwing! Forget about the everyday as you hurl an axe through the air at a wooden target. Other options at The Viking Games include knife throwing and archery, or try a nordic throwing game such as Bullrings, Molkky or Stubb. You're guaranteed to leave feeling that bit more 'warrior'.
8. Celebrate the 50th Birthday of Offa's Dyke Path
Named one of the world's greatest walks by Lonely Planet, Offa's Dyke Path follows the route of the eponymous eighth-century defensive earthwork. Hike the 14.75 mile section between Hay Bluff and Kington, which culminates at Hergest Ridge. Here the trail rises to 400 metres, offering jaw-dropping 360-degree views across England and Wales, the two kingdoms which King Offa sought to divide. Look out for the wild mountain ponies and the Victorian racecourse. View our Multi-day walks.