Blossom Walk: Woolhope Circular
Image
Intro
Look out for the traditional farmhouse orchards with their regular patterns of mature apple trees. Springtime brings a spectacular display of pinky-white blossom but there's interest throughout the year, including apples in autumn and mistletoe in winter. Our orchards are also home to a wide range of wildlife, including the rare Lesserspotted Woodpecker and iridescent Noble Chafer beetle. See what wildlife you can spot along the way.
Don't Miss
This walk starts in Woolhope, a pretty settlement which has built up around a 12th century church. The village sits in the Woolhope Dome, a rim of hills and folds resulting from the underlying geology of silurian limestone. This limestone rock is unusual - much of Herefordshire lies on old red sandstone - and creates a species-rich grassland habitat.  Quite a few places in this locale and the county in general have the word 'Hope' in their name including Sollers Hope, Fownhope and of course Woolhope. The word 'Hope' means a small, enclosed 'blind' valley, and when you look at the hilly landscape in this area it is not surprising that the name appears so often. 
Image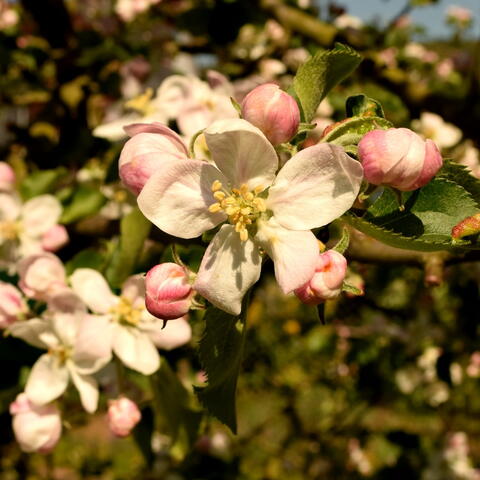 Total elevation gain: 166m
Route Guide
There is parking at Woolhope Village Hall and also a few spaces on Broadmoor Common. For refreshments, head to one of the village's two welcoming pubs - The Crown and The Butcher's Arms, booking advisable if you would like to eat.