14 Best Craft Cider Producers
Experience superlative ciders in the spiritual home of the apple
Image

11th June, 2021
Cider is Herefordshire's favourite thirst-quencher! If you've only tried the odd glass in a pub, then prepare to have your taste perceptions challenged. Our fantastic artisan producers are serious about the art of cider-making. Many makers run farm shops where you can stock up on the good stuff. Or, call in advance to arrange tours and tastings.
Our three Cider Circuits loop cideries in the north, south and west of the county so are perfect if you're keen to explore a range of different producers. Designed for cyclists, they also work by car too - all that boot space for bottles!
If all this talk of cider has whetted your tastebuds and you can't wait until your next visit, then buy bottles online from our producers.
Image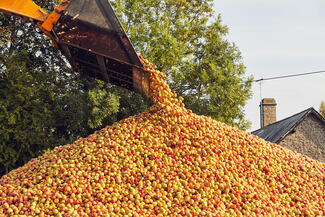 Image
1. Artistraw Cider
Just outside Hay-on-Wye, Tom and Lydia nurture old-variety orchards and produce a small but perfectly formed range of largely hand-picked, wild-fermented ciders and perry. Committed environmentalists, they apply this mindset to all aspects of their business. Call to arrange a tasting in the garden and to browse the bottle shop. And keep an eye out for their tours and talks.
2. Butford Organics
The presence of a 300-year-old cider mill at Butford is a reminder of the region's rich heritage, so it's no surprise that tradition is key in the creation of this producer's pure juice. Organic and non-interventionist they make still and sparkling ciders and perries, and recently branched out into cider brandy. Visitors can find out more about their approach to cider-making by arranging a tour and tasting. 
3. Dunkertons Cider Mill
Susie and Ivor Dunkerton started making organic cider and perry from the apples and pears in their orchards near Pembridge in 1980. Four decades later, though production has shifted to Gloucestershire, you can still pick up their award-winning tipples from the Tudor-style barn (Fridays and Saturdays only) which is next door the lovely Cider Barn cafébar and restaurant.
4. Fair Oak Cider
The only horse-drawn cider mill still in operation can be found on this farm, powered by calm, good-natured Tommy. Wonderful old apple varieties create delicious ciders that change year to year, according to what's good. Visitors can arrange to taste and buy the cider in the bottling room above the mill house. On certain weekends in the autumn, visitors can even watch Tommy the mill horse at work.
5. Gregg's Pit Cider & Perry
Gregg's Pit is a true labour of love for James Marsden and Helen Woodman. They have rebuilt a glorious old farmhouse and restored ancient orchards. Book a visit to roam the nature-friendly orchards, meet ancient fruit-tree varieties, discover traditional methods of cider and perry production, and taste single-variety cider or perry while resting in the shade of the trees from which the fruit was harvested.
Image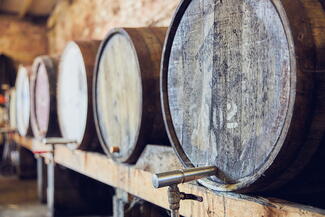 Image
6. Gwatkin Cider
The Golden Valley is home to another award-winning cider producer. Gwatkin creates a range of more than 30 traditional farmhouse ciders and perries, all naturally fermented on the family farm. Pick up a selection at the shop which is open every day or hang out in the newly opened cafe which serves homemade food. And look out for regular music and cider festivals.
7. Innocent Pilgrim
Another devotee of natural, organic methods, Innocent Pilgrim is based just outside Leominster. They love to see visitors strolling through their orchards. And there's even the chance to get involved as there are always jobs to help out with. They also sell delicious homemade chutneys, jams and jellies. Call in advance.
8. Little Pomona Cider & Perry
Just outside Bromyard, James and Susanne Forbes – a long-time drinks writer and passionate advocate of quality cider – are creating special products imbued with the terroir of the land. Work your way through the latest vintages in the spacious tasting room or at tables beneath swaying apple trees, perhaps pairing with fine local cheeses and meats.
9. Newton Court Cider
Who can resist the call to  'honk for cider'?! Beep your horn outside the shop or drop in for a browse and trip to the tasting room. Ring ahead to join artisan maker Paul Stephens on a tour of the orchards for the lowdown on how their fruits are used to ferment fine cider and perry. He's passionate about traditional craft methods and has been creating full-juice 'no-codswallop' cider and perry for two decades.
10. Oliver's Cider & Perry
A trip into the barrel store at Oliver's reveals a battalion of dark wood casks previously used in the creation of whisky, rum, red wine, sherry, even calvados – all of which adds to the character of the award-winning cider and perry produced here. Oliver's is at the cutting edge of cider-making, celebrated for its tasty and progressive interpretation. Book tours and tastings in advance.
Image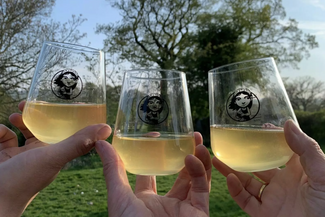 Image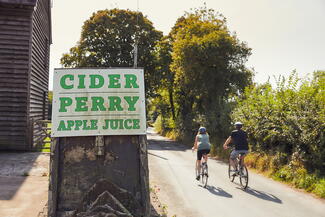 11. Ross on Wye Cider & Perry
Stop at the Yew Tree in Peterstow to try the award-winning drinks produced by the Ross-on-Wye Cider & Perry Company. Sharing a passion for traditional fermentation methods using whole apple or pear juice, father-and-son team Mike and Albert Johnson create a spectacular range of single-variety and blended ciders and perries – wheel your bike through the orchards, growing more than 100 varieties of apples and pears. Call ahead to arrange a visit.
12. The Orgasmic Cider Company
This sparky, family-run producer at Great Parton farm creates single-variety ciders with the likes of Brown Snout, Foxwhelp and Balls Bitter apples, as well as Parton perry, from the fruits of its 100 acres of orchards. Book a tour to enjoy a walk among the apple trees and visit the cider house for a tasting. There's also a cider shop, selling local tipples and crafts.
13. Ty Gwyn Cider
Passion project of former 90s pop musician Alex Culpin, Ty Gwyn combines modern technology with very traditional methods and varieties to produce award-winning ciders and perry. There's an on-site bar, with fabulous views of the Black Mountains, and a cider shop, which even offers a drive-thru service - although we would recommend lingering longer!
14. Westons Cider
Weston Cider Mill is one of the county's largest independent producers. Five generations of the Weston family have created cider and perry here for nearly a century and a half, and today it's still a proudly local and sustainable affair. Explore its heritage and production on regular daily tours of the mill, pick up some of their wares in the shop, or refuel on hearty fare at the Scrumpy House Restaurant.