Free & Pocket-friendly Wild Things to Do with under-7s
Plan your family adventure
Image

15th July, 2022
Delve into the great outdoors in Herefordshire and you'll find lots of fun things to do. Best of all, there's plenty of free and pocket-friendly options.
Image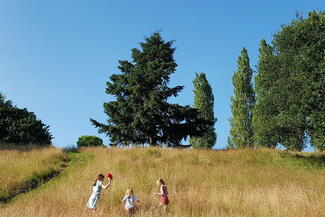 1. Meet our wild mountain ponies
Herefordshire is lucky to have several 'easy peaks' where a short hike uphill is rewarded with jaw-dropping, 360-degree views. Even more exciting, wild mountain ponies love to graze at two of these spots. Race to the top to admire these beautiful beasts who can usually be found munching away quietly. These vast green spaces are fun to explore, with striking natural landmarks from monkey puzzle trees to wild moorland.
Where: Run free at Garway Hill, a 20 minute drive from Hereford, or Hergest Ridge, near Kington. Free.
Image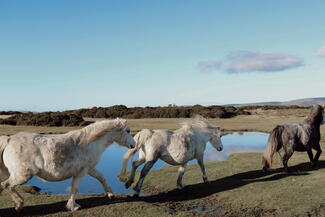 Image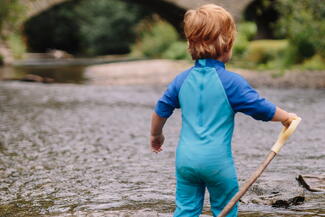 2. Paddle, picnic & skim stones
Our pebble 'beaches' make for an easy afternoon by the river. Take along a picnic and enjoy a paddle and play in the water. See if you can master the art of stone skimming - how many bounces can you score? Take a wander along the footpaths to spy busy bees and pretty wildflowers. 

Where: Hang out by the bridges in Pembridge or Bredenbury, or make for the riverside meadow in Hay-on-Wye, known as The Warren. Free.
Image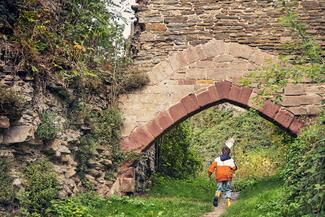 Image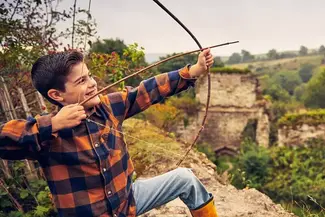 3. Roam crumbling castles
Armed with a bow and arrow, or pure imagination, Herefordshire's castle ruins are fabulous fun. Re-enact the past and run around at Longtown Castle, climbing the steps of its striking cylindrical keep. The overgrown ruins at Wigmore Castle are instantly appealing, hide out in the defensive ditches and explore the intriguing fortifications which, in some places, are buried up to the first floor. Or take a quest to Snodhill Castle's ten acres and find out about this once-lost Norman stronghold with fantastic views.
Where: Longtown Castle HR2 0LE, Wigmore Castle HR6 9UB, Snodhill Castle HR3 6BG. Free.
Image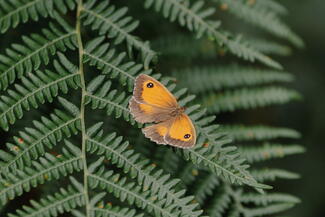 Image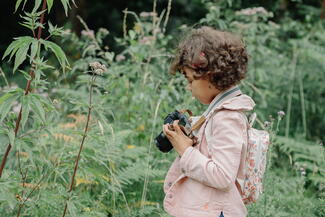 4. Set eyes on rare butterflies
Over 600 species of moths and butterflies live in Haugh Woods: how many will you spot? Little legs will love the two waymarked butterfly trails (2.5km & 3.2km) which are also suitable for pushchairs. Meanwhile older kids can roam or bike for hours around the 350 acres of ancient woodland. Keep an eye out for the very rare Pearl-bordered Fritillary and Wood White butterflies. 
Where: Haugh Woods which is a 15 minute drive from Hereford. Free.
Image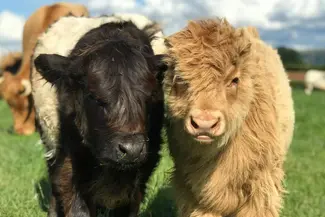 Image
5. Wildlife walks on an ice cream farm
Tucked away in the Golden Valley, Rowlestone Court offers wildlife walks through woodland and wildflower meadows. Bring your nets to go pond dipping, say hello to the highland cattle and run around the play area. Afterwards, chill out with a farm-fresh ice cream. Pick from 50 flavours, including vegan-friendly sorbets. 
Where: Rowlestone Farmhouse Ice Cream, HR2 0DW

Wildlife Walk is £2 for adults and 12+, under 12s go free. Opening times for the summer holidays are 11am-5pm on Saturdays & Sundays, 11am to 4pm Wednesday to Friday.
6. Take to the skies with a kite
Make the most of a gentle breeze! Herefordshire has endless open space for kites to soar and dance. A favourite spot is Westhope Common which is close to Wellington Home & Garden, where you can call in afterwards for a slice of cake in their cool cafe.

Where: Westhope Common, HR4 8BU. Free.
Image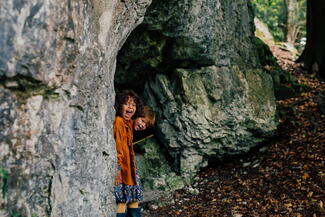 Image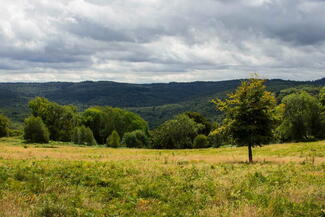 7. Hide out in a legendary cave
Unravel the secrets of King Arthur's Cave which is linked to magic and mammoth bones. Play hide and seek in and around the limestone cave which sits in a pretty, little nature reserve with lots of trees and birds all around.
Where: King Arthur's Cave, Great Doward nature reserve, HR9 6DZ. Free.