Image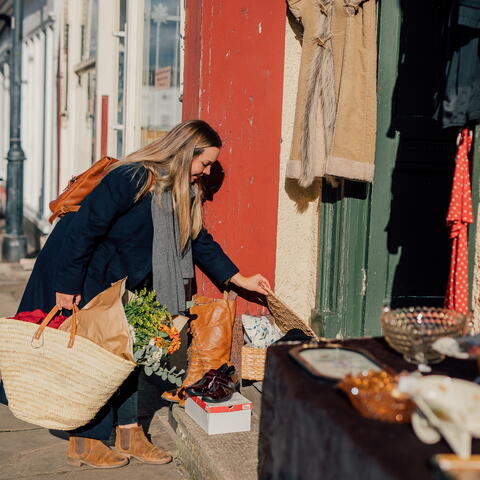 Image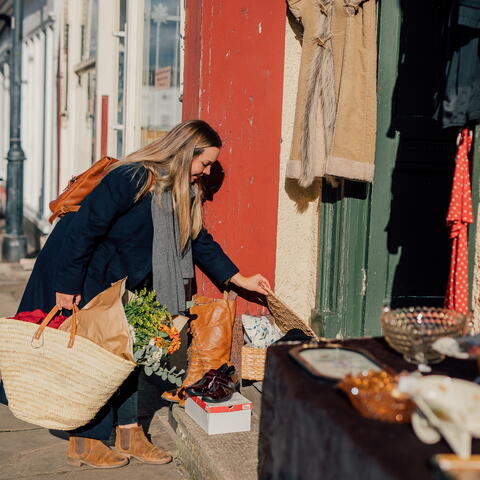 Itinerary:
Slow Shopping: Antiques & Vintage
Preloved delights in Leominster, Ross-on-Wye & Bromyard
Fans of antiques and vintage will love hunting for unique furniture, decorative knick-knacks and delightful, one-off finds in Herefordshire's market towns. Choosing to shop second hand is also super sustainable as no resources are needed to make these gifts.
And you can continue the historic theme into the evening by dining and staying in one of the county's beautiful black and white cottages.
Slow shopping
We're inviting shoppers to take it slow and sustainable this year. Think eco by buying less but buying well - there's more ideas and itineraries available here.
Slow travel
Leominster is on the rail network and the other towns can be reached by bus services, routed via Hereford. Bus travel is free at weekends. In addition, Ross-on-Wye is serviced by National Express coaches so this makes an alternative starting point. All the towns also have electric car charging points.
Day 1: Leominster, Antiques Mecca
A treasure trove of antique shops and independent boutiques
Leominster's historic streets are lovely to meander in search of  meaningful gifts. Start on Broad Street which is lined with shops, including Stockmoor Antiques' period showroom and No 14 which focuses on nostalgic interiors. Meanwhile, The Antique Market and Leominster Antiques Centre have almost endless rooms to explore, as do the Secondhand Warehouse & Antiques Centre on nearby New Street, The Merchant's House on Corn Square and Retro Station which is near the railway station. Make time to explore specialist stores such as The Light Shop, War & Son for medal and military antiques plus The Barometer Shop for clocks and, you guessed it, barometers! Along West Street, enter the world of vinyl at Spindwyer Records and browse fantastic second-hand titles over a coffee at 35 West.
Other independent shops worth a peek include the Oxenham Art for contemporary art, pottery and jewellery, as well as Noted for stylish womenswear. Little ones will love a treat from Martins Models - a proper toy shop, a new read from Rossiter Books or arts and crafts goodies from Roundabout Stationery. For all things planet friendly, check out Biobab which also stocks gorgeous natural skincare from local brand Herbfarmacy. There's also eco bodycare and more at Leominster Organic. Foodie friends will appreciate a hamper crammed with Herefordshire's finest from Vine & Juniper, Drapers Lane Delicatessen and Mousetrap Cheese.
Queenswood Country Park & Arboretum is a short drive away, offering wintery walks and a superb nature focused gift shop. The National Trust is also decking out its two nearby properties in their festive best and selling second-hand books: Berrington Hall and Croft Castle. Or take a tour around the famously pretty Black & White Villages to discover the Old Chapel Gallery in Pembridge and pick up lovely food gifts at the Green Bean in Weobley and the Eardisland Community Shop. 
Lunchtime
Drapers Lane Delicatessen, The Press Room and The Flying Dutchman which are all in and around Leominster's pretty Corn Square. Or wander along West Street to discover plant-based deliciousness at Plantastik and the brightly coloured music cafe bar Reet Petite. For a side of heritage with your soup, head for the cafe in the beautiful black and white Grange Court. 
Dinner & stay overnight 
Book into The Riverside in Aymestrey, a 16th century black and white gastropub with rooms. The kitchen enjoys showcasing local produce and artisan suppliers as well as growing their own.
Unique experiences
Whilst in Leominster, book a cider tasting at Newton Court Cider, an award-winning artisan producer, or make a leather bag or belt with the help of designer- maker Sarah Williams. 
Image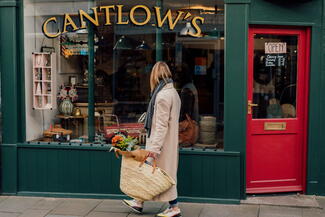 Image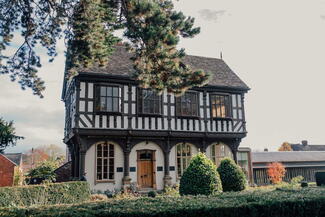 Image
Image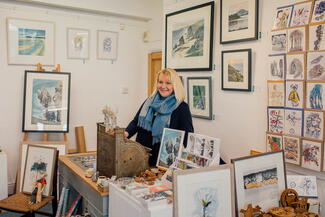 Alice Oxenham, Oxenham Art Gallery
Oxenham Art Gallery is on Broad Street and showcases a collection of contemporary fine art with a mix of pottery, jewellery, painting, printmaking and textiles.
Insider's Tips
Alice Oxenham is the fourth generation of artist/gallery owners in her family. She runs Oxenham Art Gallery, here's her Slow Shopping recommendations: 
27 Drapers Lane Delicatessen: for incredible pastries and shelves laden with tempting treats...the street itself is charming and I walk away feeling like I've had a mini holiday
No 14: even if antiques aren't your thing, it's an adventure walking through the rooms that go back and back, with eye-catching displays at every turn
The Grange: I love to stroll along the walkway, admiring Grange Court, built by the local master carpenter, John Abel
Roundabout Stationers: this Aladdin's cave of fine quality art materials caters for the professional and amateur artist, as well as children
The Flying Dutchman: for divine hot chocolate and a delicious cajun chicken salad
Day 2: Ross-on-Wye, Vintage Trail
Perched above the river, it's the perfect spot to go hunting for stocking-fillers
There is an abundance of choice for aficionados of antiques, vintage and retro. Follow The Vintage Trail to tour the best boutiques. Furniture specialist Blank Canvas Antiques occupies a magnificent Tudor building which is itself a treat for the eyes, whilst close by lies Now and then Antiques as well as Relics which is a favourite for jewellery and interiors. At the top of town, take a wander around Lot 47 and Space/Inside to find fantastic curios, collectables and vinyl.
Other excellent slow shopping options include colourful upcycled creations at Vintage Virtu and  pieces from local designer-makers at The Basement and Made in Ross. Discover interiors, light fittings and paints at the Architectural Store and Lizzie Bunting. Or delight art fans with a special something from Gallery 54, Lyons Gold and the studio of ceramicist Sarah Darcy.
Pick up goodies for kids at the super Toy Box and mooch around Crossfield Creations and Heavenly Homes & Gardens for decorative homeware. Head to Boutique at No.2 and Crows Feet for accessories and luxury gifts, whilst Ross Cook Shop is the perfect place for culinary presents.
Lunchtime
Relax over a light lunch at No 3 Restaurant, a cosy retreat in the middle of town, or have a bite to eat  at Caffe Eleganza. Sample the fabulous sandwiches at Truffles Deli (or take out and enjoy by the river).
Dinner & overnight stays
Eat and sleep under the beams at The King's Head, a welcoming spot in the centre of town or kick back at  Orles Barn with its panoramic views over the River Wye. A short drive away find The New Inn  which has a strong emphasis on local produce, as well as characterful bedrooms. The seasonal menu at The Loughpool celebrates local ingredients and you can sleep surrounded by orchards at  Broome Farm B&B, a 300-year-old cider farm.
Unique experiences
Sample delicious wines at Wythall Estate Vineyard and  treat your friends to your favourites. Or craft your own signature blend at Foxtail, using herbs, flowers and botanicals foraged locally.
Image
Image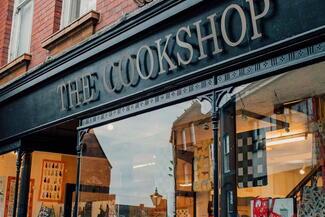 Image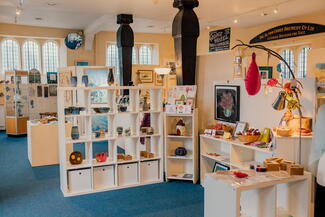 Image
Gallery 54 specialises in contemporary abstract paintings, ceramics and glassware, made by local and international artists. Set within a 17th century listed building, Sue has created an open house ambience and displays the artworks in a homely situ to make it an inviting space for all. Expect to find understated elegance and quirky appeal throughout the gallery's two floors.
Insider's Tips
Sue Williams gorgeous gallery is one of many fantastic independent shops in Ross-on-Wye. Her Slow Shopping recommendations are:
Ross on Wye's Virtual Museum: Take in the magnificent view of the River Wye from The Prospect. Download the augmented reality 'Museums without Walls' app to discover heritage delights such as the The Lost Fountain. Wander down to the river meadow to learn about the Wye Tour Boat - which launched tourism in this country.

Lizzie Bunting:

A beautiful, bright emporium! I love their eco-friendly Frenchic Paints and range of waxes, stencils and brushes which set fire to the imagination.

Rossiter Books:

An independent bookshop with a fabulous selection for all ages and genres. Always great recommendations and their author events are a real treat.

Caffe Eleganza:

A creative menu with vegan specials. Their gorgeous salads have hints of the Mediterranean and the Middle East and the vegan chocolate cake is scrumptious.

Made in Ross:

Situated upstairs in our ancient Market Hall, this co-operative of artists and makers living within 20 miles of town sells a wide range of arts and crafts. And you can meet some of the artists.
Day 3: Bromyard, Haven for Vintage Fashion
Explore the traditional high street and quirky independent shops
As well as a flair for festivals and close links to Herefordshire's hop-picking heritage, the little town of Bromyard boasts a high street where tradition meets unique.  Among the independent boutiques and second-hand stores is Teagowns & Textiles, heaven for one-off gifts for vintage clothing lovers. The eclectic store at 46 Broad Street is a mecca for period accessories and retro gems from pre-1920s items right through to the 00s fashion, while David James Jewellery, at 41 High Street, often stocks pre-loved pieces including antique jewellery.
A short drive from Bromyard is Bringsty Vintage Living, a charming antique furniture store that is a treasure trove of refurbished homeware, interior design and quirky decoration. While Holloways, a contemporary lifestyle store in nearby Suckley, has a wealth of outdoor decor including antique planters and art. Bromyard is also a celebrated enclave for foodies, why not create a Herefordshire hamper for the gourmet in your life?
Lunchtime
Try Brew, a comfy coffee shop on Bromyard High Street or Oaklands, a deli and cafe on Broad Street. Both of these popular independents sell winter warming soups, sandwiches and delicious coffee.
Dinner & stay overnight
For a town centre stay you could check into The Inn at Bromyard, a traditional black-and-white timber-framed hotel. A short drive away is Brook House Woods with luxury cabins and even treehouses nestled among boughs of ancient oak trees.
Unique experiences
Try out the Roast & Ramble route to walk up Bromyard Downs for the views and then reward yourself with a cosy pub lunch. Or take an escorted horse trek with Noakes Farm Riding Centre along the River Frome. Alternatively, pull up at stool at Little Pomona to explore the modern taste of cider.
Image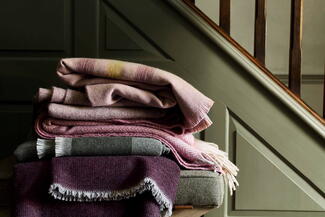 Image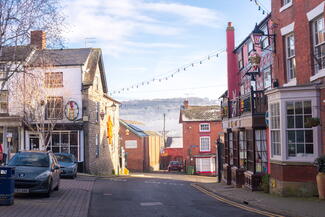 Image
Image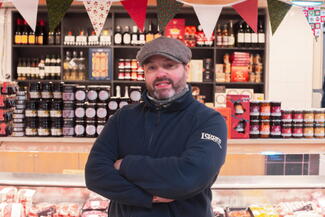 Anthony Legge, Legges of Bromyard
Legges is one of Herefordshire's finest butchers and delis. It was set up by Anthony Legge, a local farmer's son, who is passionate about promoting high quality local produce. Work up an appetite by taking a wander around the Bromyard shop, picking up delicious provisions and perhaps a handmade pie or two. Online ordering is also available and their hampers make a really special gift.
Insider's Tips
Anthony knows Bromyard like the back of his hand, here's his Slow Shopping essential stops:​​​​​​
Pettifer's: Bromyard has a fantastic traditional high street. This hardware store  is packed to the rafters with useful kit and its been in town for ever and a day - the friendly service makes it old-fashioned in just the right way. 
J H Halling House 2 Home: The perfect place to find quirky, interesting gifts and high quality home furnishings, such as rugs, cushions and mirrors. There's always something new on offer.
The Baiting House: A 15-minute drive out of town, this is a fantastic country pub. I love spending time here with friends and family - the food is outstanding. 
Red Zebra: A chic shop for contemporary womenswear and accessories.
Bromyard Downs: A Slow Shopping break wouldn't be complete without a walk on the downs. Amazing views and plenty of room to breathe.