Sustainable Holidays
Celebrating Earth Day 2021
Image

21st April, 2021
To celebrate Earth Day 2021, here's our round-up of excellent eco-friendly tourism businesses in Herefordshire.
Our tiny, green county is a beautiful place - and we want to keep it that way. Many local businesses are actively taking steps to reduce their impact on the environment and to combat climate change. Here's a snapshot of those who are flying the green flag - find more in our directory by looking out for the listings featuring the 'Caring for the Planet' section.
Eco Cottages: Thatch Close Cottages
Book a break at Thatch Close Cottage and wake to birdsong, thanks to the surrounding 12 acres of unspoilt pasture. The three self-catering accessible cottages expertly blend old and new, using recycled and locally sourced materials. The stone was from nearby derelict buildings and farmers' fields, the beech floors are recycled  - originally a school gymnasium - whilst much of the oak is reclaimed. It's a haven for wildlife here, with resident foxes, badgers, owls, birds of prey and amphibians. Thatch Close was awarded the 5 Star Herefordshire Wildlife Award for their tree planting, hedge and pond revival as well as their organic principles. The cottages are signed up to composting and recycling as well as refillable toiletries.
Eco Glamping: Drovers Rest
Find posh camping and cool cottages on a beautiful organic farm in the Golden Valley. Passionate about nature, the planet and food grown the proper way, the husband and wife team are actively rewilding the land at Drovers Rest to attract more wildlife. They practice field to fork using regenerative farming and permaculture methods. Composting and recycling are standard practice, whilst all the toiletries are green, refillable options. Meanwhile, their outdoor farm feasts are an epic showcase of local, seasonal, homegrown food.
Image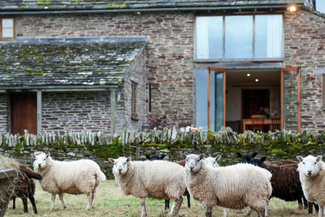 Image
Eco Restaurant: Pensons
Located on the historic Netherwood Estate, Pensons is an ingredient-led, Michelin-star restaurant that celebrates the very best that the local area has to offer. They believe great cooking starts with the quality, seasonality and freshness of the ingredients so they grow or forage as many of the vegetables, herbs and fruits as they can. Their sustainable approach extends to welfare credentials, actively reducing packaging waste and minimising food miles. Their hyper-localism continues throughout the restaurant in the way they reflect the sense of place. They collaborated with local artisans and craftspeople on the interiors, from seat covers and napkins made in the weaving mill on the Estate to lampshades crafted by a local maker using willow from a nearby wood. Reopening Wednesday 19 May.
Eco Tipples: Newton Court Cider
Herefordshire is the home of organic apples and cider. And our orchards are very good news for the bees, butterflies and wildflowers. Set on a certified organic farm, the award-winning Newton Court Cidery looks after its apples naturally and its Organic Gasping Goose is accredited by the Soil Association. Newton Court prides itself on producing craft cider, which means a cidery surrounded by orchards, not industrial equipment, and a tipple that supports the local area, its heritage and surrounding countryside. Visit the farm shop, chat to chief cider maker Paul and book a tour of the orchards.
Image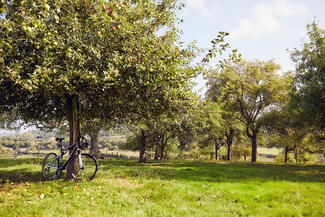 Image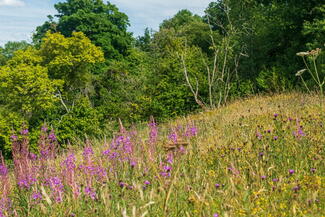 Eco Warriors: Herefordshire Wildlife Trust
Local charity Herefordshire Wildlife Trust is committed to making Herefordshire's wildlife richer and more diverse, whilst also bringing people closer to nature. With the support of over 200 volunteers, they care for 55 Nature Reserves and work to inspire everyone to discover and care for Herefordshire's wildlife. Common Hill Nature Reserve is a patchwork of small meadows and orchards in the ancient Woolhope Dome landscape. Keep an eye out for the tiny adder's tongue fern, common spotted orchid, yellow rattle,as well as masses of cowslips in spring, quaking grass, common rock-rose, wild thyme and milkwort. And see which butterflies you can spy -  over 20 kinds have been recorded here including dingy skipper, wood white, marbled white and pearl-bordered fritillary.
Eco Activities: YOFI Paddle Sports
Propel yourself by paddle along the River Wye, spotting wildlife up close and personal or opting for some whitewater action. Whether you're an adrenaline seeker or a nature nerd, the team at YOFI Paddlesports will take care of you. And at the same time, they will be looking after nature too. The founder, Karen Maidment, is the Plastic-Free Community Leader for Surfers Against Sewage and regularly runs river and beach clean-ups challenges. The company has also joined the 1% for the Planet initiative, donating 1% of profits to support environmental organisations. 
Eco Travel: Beryl Bikes & Eclectic Car Charging
Grab a green Beryl bike for an easy way to get around Hereford.  Beryl Bays are located throughout the city, providing access to 200 bikes (including 30 electric bikes) whenever you want to whizz around the city or explore the local scenery. Just download the app to unlock a bike and enjoy the ride.
If you prefer to travel by  four wheels, then look out for electric car charging points across the county.