Image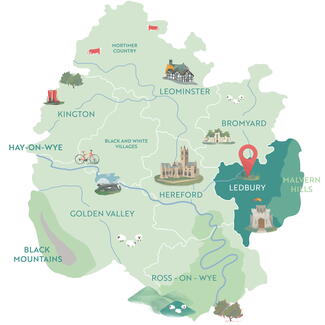 Ledbury
Poetry Town. Historic charm. Independent shops.
Excellent independent places to shop & eat

Visit local artisan cider, gin & wine producers

Eastnor Castle & the Malvern Hills nearby

Home to Ledbury Poetry Festival
Image
Ledbury's historic streets are lined with brilliant independent shops, plus plenty of places to refuel. The town is surrounded by woods, orchards and hills, with footpaths winding up to the  Malvern Hills. Literary luminaries, including Elizabeth Barrett Browning and John Masefield, were enamoured with this beautiful area. And the local love affair with words continues via the international Ledbury Poetry Festival.
Image
Winter Delights
Wander the historic streets and stroll up tiny alleys  to find Ledbury's irresistable array of independent shops. Homewares are a particular speciality, from interiors mecca Tinsmiths to the nordic delights of Hus & Hem. Mooch around art galleries and bookshops, womenswear boutiques, lifestyle stores and delis. Dotted all around, you'll find plenty of spots for coffee and a bite to eat. Make the most of your break with relaxed rambles and unique experiences.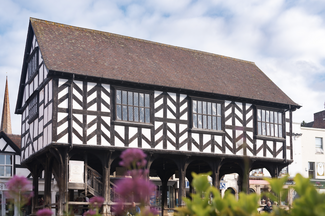 Historical Streets, Close to the Hills
Soak up the town's history and your stroll the streets. See the unusual stilted 17th-century Market House, find out about the Tudor history of the restored Masters House and walk up the cobbles of Church Street, home to the 16th-century Painted Room, the Heritage Centre, the Butcher's Row Museum and, then, St Michael's and All Angels Church where a painting by Titian was discovered. The town is surrounded by woods, great for walking, whilst the Malvern Hills and Marcle Ridge are within easy reach for longer hikes.
Image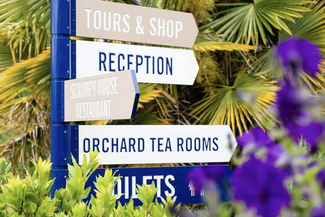 Big Apple Country
Ledbury is surrounded by orchards which are celebrated twice a year by the fantastic Big Apple festivals. Tours, tastings and orchard walks are also available all year round, at the established Westons Cider as well as at award-winning artisan producer Gregg's Pit.  Herefordshire has a growing reputation for wine-making so a trip to nearby Coddington Vineyard is another must. 
Image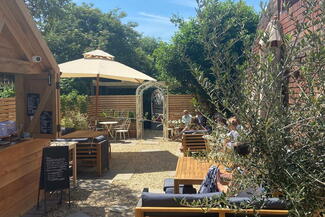 Image
Enjoy a day out at Eastnor Castle or visit the historic Hellens Manor, taste award-winning wine at Coddington Vineyard and travel to the past at the Heritage Centre. 
Browse things to do in Ledbury
Image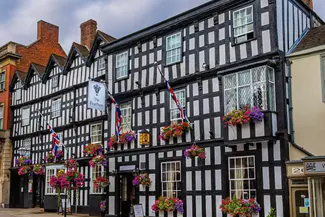 Stay in and around Ledbury, options include a timber-framed former coaching inn, grand country homes through to yurts amidst the apple trees. 
Choose a place to stay in Ledbury
In July: Ledbury Poetry Festival
Come in the first two weeks of July to experience the Ledbury Poetry Festival, which takes place in venues throughout the town and out into the beautiful hills, with the greatest poetic voices from around the world.
In October: Big Apple Harvestime
Early October, the area plays host to a weekend dedicated to celebrating the apple harvest. Visit local orchards and artisan cideries to see, hear and smell cider being made and taste many different varieties of apples, local ciders, perries and apple juices. The programme includes many events from readings to guided walks.
Image
Herefordshire's cider is the stuff of legend. Follow the fantastic Cider Circuits to journey through our scenic countryside by bike or car, meeting some of the finest local cider and perry producers en route. The Redstreak circuit takes in Ledbury as well as nearby Westons Cider and Gregg's Pit.
Read More
Image
This fantastic walking route starts at Ledbury and loops around the county. Stroll a short section or tackle the full 154-mile circuit over a few days.
Read More