Black & White Villages Walk: Weobley to Burton Hill
Image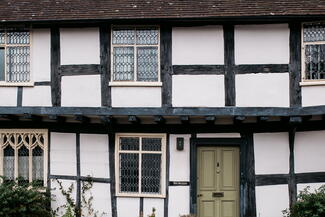 Intro
Traverse peaceful fields and climb into a mesmerising hilltop forest, discovering a glorious Elizabethan manor and the remains of Weobley's 13th-century ring-and-bailey fortification.
Don't Miss
The multi-gabled black-and-white Elizabethan manor know as The Ley sits amid farmland southwest of Weobley. Listen for woodpeckers and watch for skittish families of roe deer amid the forest on Burton Hill. Then roam the evocative remains of Weobley's medieval castle.
Image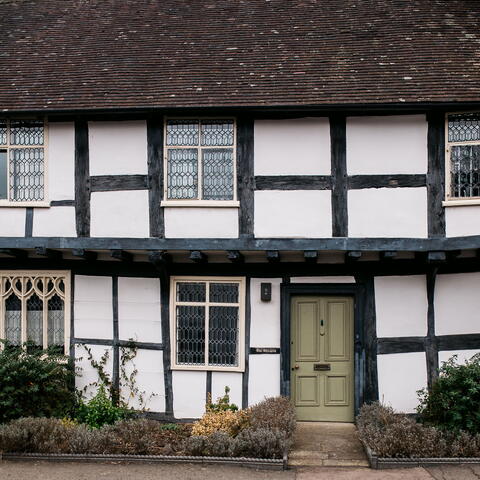 Total elevation gain: 233m
Route Guide
Facing the Rose Garden in Weobley's old medieval square, with your back to Ye Olde Salutation Inn, turn left down High Street and cross Back Lane, turning right then immediately left alongside the imposing black-and-white Marlbrook House with its first-floor jetty. Follow what seems to be a driveway into a farmyard, going through a series of gates to reach a field with a hedge on your right; when a stile appears in the hedge, turn left to cross the field, and continue through further gates to cross fields and a small meadow, mounting a style and emerging onto a tarmac road in front of The Ley, a magnificent timber-framed house built in 1589.
Turn right and cross the small green diagonally, past metal sculptures and an old cider millstone, and a farmyard; follow yellow arrows through large metal gates past farm buildings to reach a concrete track that, when the hard surface runs out, becomes a grassy path in a field running alongside a hedge to your left; enjoy views ahead to the hills on the Welsh border. Cross a small footbridge and veer slightly right across a field, continuing through two fields to reach a T-junction at the edge of a copse. Turn right, soon following the path round to the left, still alongside the copse – this stretch can be muddy. Emerge into a field, turning left and tracing the edge of the field, veering right at the end into the next field; in the far corner, go through the gap left and climb to the road.
Turn left, shortly taking the signposted path right climbing steeply to a drive and continuing uphill to reach a path ascending into the woods. At the forestry track, turn left and look for a narrow signed path running steeply uphill to the right, crossing another forestry trail to reach a wider track ahead, quickly levelling out. Pass a trig point marking the top of Burton Hill, drinking in the peace of this shady, dappled woodland. Before long, reach a junction of tracks; take the narrow path signed sharp left, descending steeply to a wide track, where you turn right to exit the woods. Before long, the slender spire of Weobley Church comes into view ahead, with deciduous woodland capping the hills to your right.
Follow the trail round to the left, joining a gravel track that veers right to a T-junction; turn left, through a gate and diagonally right across a field, aiming for the left-hand edge of a high brick wall. Emerge through a gate alongside the wall onto a track, then into a field; at the end, turn left and go through a gate onto a path leading directly towards the church.
Continue through fields and across a meadow guarded by a huge old oak, crossing a kissing gate to reach the remains of the medieval ring-and-bailey fortification built 900 years ago. Emerge through a gate to return to Weobley's central square, where you'll find a host of options for toasting your walk – a pint at Ye Olde Salutation, perhaps, or coffee and cake at Jules or The Green Bean Café.
Gallery
Image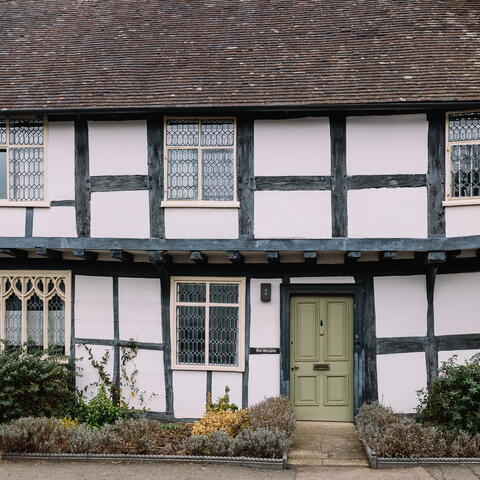 Image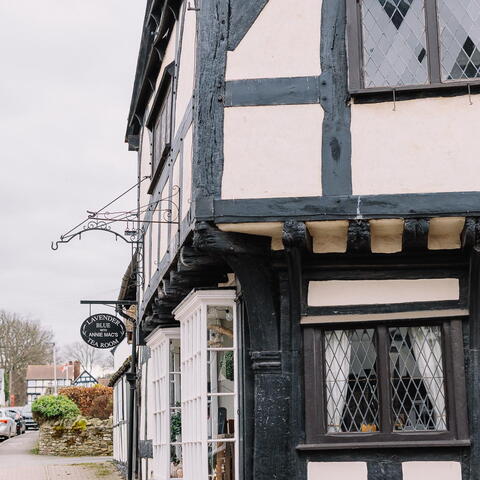 Image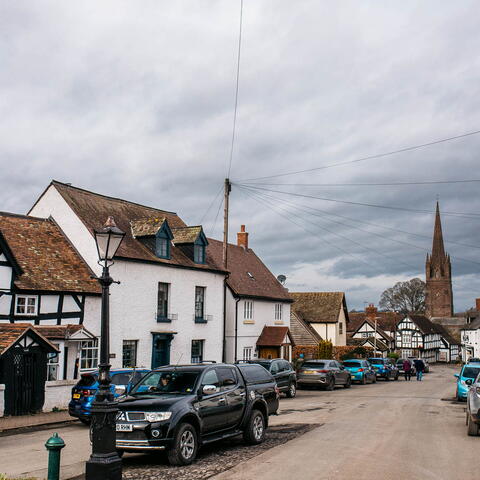 Image