Image
Image
Itinerary:
Slow Shopping: Independent style
Visit the best boutiques in Hereford & Ledbury
Slow shopping invites us all to buy less and to think quality over quantity. This Christmas, you can also shop more responsibly by supporting independent shops. Herefordshire's city and market towns are lucky to have many unique boutiques. Enjoy a relaxed winter mooch around the friendly designer-makers and beautifully-curated lifestyle stores.
Slow shopping
We're inviting shoppers to take it slow and sustainable this year. Think eco by buying less but buying well - there's more ideas and itineraries available here.
Slow travel
Hereford and Ledbury are both serviced by train and National Express coaches. Travel from Hereford to Ledbury by train or take the 476 bus (free at weekends). Electric car charging points are also available in both locations.

Day 1: Hereford, Independent Quarter
Sprinkle some sparkle into your slow shopping with a trip to historic Hereford
Head to the city's Independent Quarter on Church Street and East Street for a host of interesting boutiques. Check out the Winter Show at The Craft Gallery and browse contemporary arts and crafts at Timothy Hawkins Gallery. See stunning handmade designs at John McKellar Jewellery and CV Osborne Jewellery or browse the work of over 70 British designer-makers at Mike Gell Gallery. Buy all things bees at Hey, Honey!, find natural body care at Fodder Lotions and Potions, lovely house plants at Löv Leaf and sustainable stationery at Seedling. Invest in womenswear at Cherry Savidge and Artisan, along with accessories from Hat Trick and Foot Note. View also offers contemporary fashion whilst Calandras is a destination for menswear.
For gorgeous goodies for the home and garden, be sure to make time to mooch around Fox and Mabel, Printer + Tailor and Lūna  which are all absolute musts on any Christmas shopping itinerary. The two Philip Morris & Son shops are great for country clothing, toys and kitchenalia. The brand new Courtyard Shop showcases quality gifts crafted by the county's community of makers. Pop into the Butter Market for meats from Charcuterie Hereford, award-winning tipples from Gwatkin Cider and plastic-free refills at Fodder Basics, including delicious mill you own peanut butter (bring your own jar!). Talking food, you can create your own hamper after a trip to Hereford's finest, including Tanners for wine and spirits, as well as Hereford Deli.
Lunchtime
Sample delicious flavours at Sensory & Rye, coffee at King Street Kitchen, brunch at No 9 The Balcony or pop into La Madeleine or Rocket Kitchen on Church Street for lunch.
Unique experiences
Fire up your outdoor cooking skills with a workshop at Woodee or be a blacksmith for the day at Oldfield Forge. Alternatively, ride around town on a tandem.
Image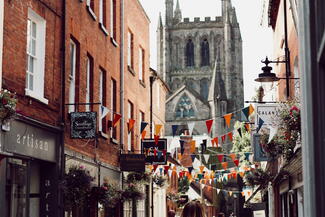 Image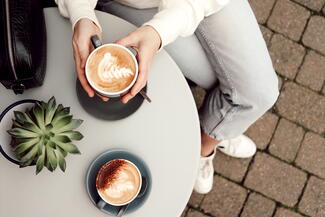 Image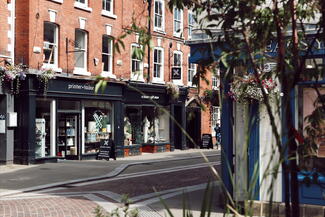 Image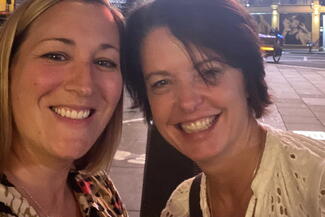 Moira Davidson & Martha Williams, Fox and Mabel
Introducing the spiritual home of the mooch: Fox & Mabel at Old Market. Take a seat outside and watch the world go by over coffee and cake, then wander around their selection of 'Gorgeous', picking up treats, pressies and useful items in the same bag. 
Insider's Tips
"We're fans of an unhurried, thoughtful meander around our favourite shops and our perfect, slow shopping day would definitely include these awesome places." say Moira and Martha, the women behind Fox & Mabel
Sensory & Rye: Start the day right with a great late(ish) breakfast/brunch. Great food, cool music and a chance to plan the rest of the outing.
The Cathedral:  Always a must visit - if you're lucky you can sometimes catch the organist rehearsing or a daytime recital. If not just sit and stare at the roof for 10 minutes and marvel at how the heck they did it! 
Luv Leaf: It's a newbie on the Hereford Indie block but packed full of plants that can't do anything other than enhance feelings of wellbeing. And it's on Church Street which is a super shopping spot. 
Beehive Florist: If you're in the mood for greenery & flowers then our go-to for bouquets and blooms has to be on Widemarsh Street. 
Neals Yard: Make time for a treatment in the rooms upstairs. It always smells so calming in there you can't help but feel a bit more 'zen' after a visit.
In the evening: Round out the day with a film or show at The Courtyard, followed by Chicken Wings, Millionare Fries and a beer at Beefy Boys. Yum!
Day 2: Ledbury, Eclectic Boutiques
Sustainable shopping with style
Ledbury's eclectic array of independent shops makes Christmas shopping stylish and more sustainable.
Tinsmiths is a place of pilgrimage for interiors junkies, famed for its beautifully crafted homeware, ceramics and artist prints. Hus & Hem is a smorgasbord of Nordic delights and you'll also find cool homeware, clothing and jewellery in the bijou Tusk Collection. Meanwhile, the colourful Take 4 Gallery showcases locally and nationally renowned contemporary artists. The Ceci Paolo emporium is home to fashion, kitchen and lifestyle stores, plus a deli. No 12 High Street is the place for heavenly merino knitwear whilst Raft specialises in women's style. For all things ethical and fairtrade, a trip to Ethos is a must, whilst Juice Collection stocks jewellery and leather goods from luxury British brands and Bra Boudoir is a for lingerie and swimwear.
Wander around Blandfords for heaps of gift ideas and an excellent toy department and don't miss the independent bookshops Ledbury Books and Maps and Three Counties Bookshop (also stocks art materials). Try The Apothecary Shop for organic beauty and wellbeing products and Choccotastic for Belgian chocolate loveliness.
Monkleys stocks lots of gorgeous gifts, including goodies for little ones, whilst Butler & Sweatman is super for homeware. Check out the menswear at Renaissance and, for a sustainable approach to clothes shopping, flick through the rails in Lottie's Cupboard dress agency.
Dinner & stay overnight
The historic Feathers Hotel and The Seven Stars both offer comfortable accommodation and excellent food. Another nearby option is the Verzon House Hotel, their restaurant showcases local produce and has recently launched tasting events and 'gourmet breaks'.
Image
Image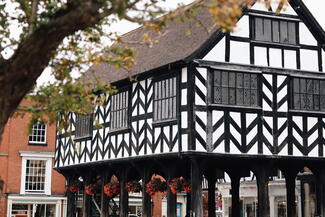 Image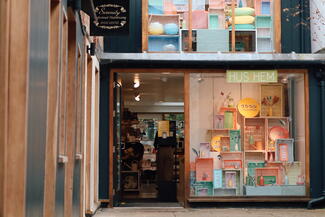 Image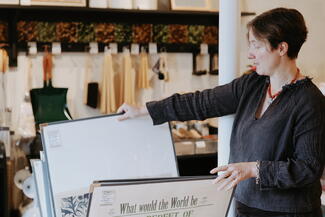 Tinsmiths is an unmissable destination for interiors lovers thanks to its beautifully curated mix of fabrics, pottery and homeware. Phoebe sources useful, well made and easy to live with design for the home, with a sprinkling of vibrant highlights. Many of the products are designed and made in the UK.
Insider's Tips
'Ledbury has so many wonderful shops that it's hard to know where to start', says Phoebe Clive of Tinsmiths. Here's a few of her Slow Shopping favourites:
Hay Wines: Super knowledgeable with a fantastic selection of wines, plus regular Tasting Events. It's a good place to buy local cider and beers.
Pot & Page: A really great new addition to Ledbury, offering an exciting and very tasty plant based menu as well as regular events and cocktail nights.
Hus & Hem: This long established Scandinavian store has a fabulous range of homeware and clothing, it's excellent for gift ideas.
Wallers Butchers: A Ledbury institution! Offering wonderful meat and game sourced from local suppliers. The team really knows their stuff and can advise on the very best cuts for your recipe or occasion.
The Malthouse: Excellent coffee, amazing cakes and delicious lunches in a lovely building and courtyard garden on the picturesque cobbled street, 'Church Lane'. They also do take outs which can be enjoyed in the Walled Garden at the top of Church Lane on a sunny day.