Top 14 Canoe & Paddleboard Experiences for Summer 2023
Come to the canoeing county
Image

6th June, 2023
Whether you're after a high energy thrills or gentle journeys in a sublime setting, Herefordshire has got you covered. Pick from one hour paddle-abouts in the city to half/full day experiences, through to glamping breaks, canoe & bike trips and ambitious multi-day challenges.
Our expert canoe companies will kit you out with the necessary gear, providing training and transfers so you can easily experience the beauty of the River Wye first-hand. Read more about the practicalities of canoeing trips here.
Please be sure to book in advance to ensure availability.
Image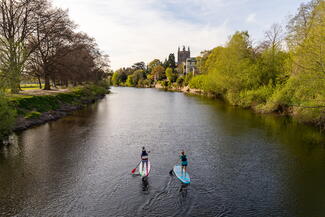 1 - 2 Hour Experiences
1. City paddles
Hereford sits on a loop of the River Wye and visitors can take to the water from the city's Rowing Club. Try a two-hour paddle-about in a canoe or test your skills on a Stand Up Paddleboard. Head down river to take in views of Hereford's rose-tinted cathedral. Perfect for first-timers and families with children aged 6+, plus the option to camp overnight at the club. Book your trip with Hereford Kayak Canoe Hire.
Dates: Fridays, Saturdays & Sundays
2. Paddle and munch
Work up an appetite before tucking into fabulous food at Ye Old Ferrie Inn which offers canoe hire for £25 an hour. Take a relaxed paddle around Symonds Yat before diving into the bistro for a well-earned lunch. Chill out on the riverside terrace, sampling local cider, beers and spirits or whisk away younger visitors for a trip to Wye Valley Butterfly Farm or Goodrich Castle.
Dates: 7 days a week throughout July and August
3. Twilight paddle
Have the river to yourself on this Night Owl sunset paddleboarding trip. Set off at 8pm and spend a hour pootling around Symonds Yat, under the guidance of your SUP instructor. A beautifully relaxing way to end a busy day. Available with YOFI Paddlesports.
Dates: Various throughout June, July & August
Image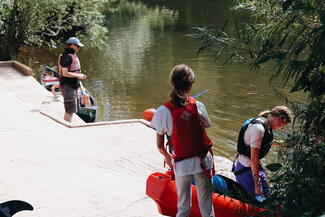 Image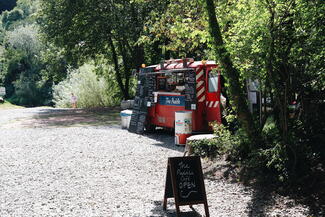 Half Day to Full Day Experiences
4. Picturesque views and peregrine falcons
Start in Ross-on-Wye and travel downstream through the Wye Valley, an Area of Outstanding Natural Beauty. The trend for 'picturesque tourism' was sparked here in 1782 and the views are just as gorgeous today. Twist and turn along the river to Symonds Yat, spotting Goodrich Castle as well as swans, geese, herons, ducks and perhaps even one of the resident peregrine falcons. Book this trip with Canoe the Wye.
Dates: Every day from June through to end September
5. Delightfully tranquil one-day canoe
A tranquil journey where it is common to see a mutltitude of birdlife but not hear a single vehicle all day. This peaceful paddle with Hereford Canoe Hire sets off from Lucksall (where you can also stay) and meanders on to Ross-on-Wye, with faster water around Carey islands too. Break midway at Hoarwithy, with the option of enjoying hot food from the campsite in Hoarwithy or enjoying a picnic on their private beach.
Dates: Every day over the summer
6. Summer sunset paddle
Take a 9-mile canoe trip, paddling through spectacular scenery as the sun sets! This magical trip is offered on specific Saturdays in July and August by Wye Dean Canoe Hire.  Starting out just below Kerne Bridge, canoe towards Welsh Bicknor, following the river as it meanders in a large horseshoe underneath the landmark Symonds Yat Rock. 
Dates: Various Saturdays in July & August
Image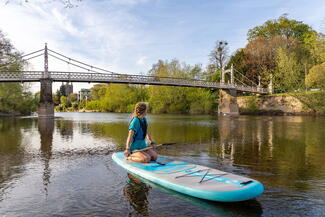 Image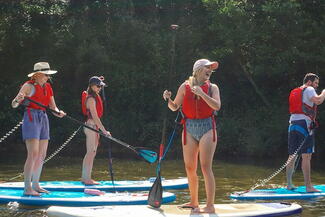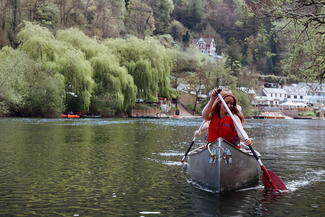 Short Breaks
7. Family canoe & camping expedition
Book a family adventure that will give you Bear Grylls' vibes but with none of the roughing it! This five day trip from Hay-on-Wye to Ross-on-Wye with Adventures with Dave includes absolutely everything you need, from overnight accommodation in a pre-pitched tent to locally-sourced picnic lunches and dinner, with various menu options on offer. You will even have your very own expedition guide to accompany you throughout. A holiday they will talk about for years to come!
Next date: 31 July to 4 August 2023
8. Women's wilderness paddleboard adventure
The team at Paddleboarding Adventures invite you to get off-grid and dive into two days of mellow guided paddling with a night camping by the river The first day will take you from Hoarwithy to Ross-on-Wye, pausing for a well-earned wild picnic lunch. Enjoy a post-paddle yoga stretch with the instructor, before strolling to the local pub for dinner. The next day takes you right the way to Symond's Yat. Some SUP experience required.
Next dates: 13 June & 23 September 2023
9. Canoe and cycle short break
For an action-packed short break, look no further than Wheely Wonderful's combined cycling & canoeing trips. Spend two or three days cycling along water meadows and river valleys, picking up the pace for the occasional steep section, followed by a day's paddle downstream. Bed & breakfast accommodation, along with quality bikes and canoes are all part of the package.
Dates: Available until September, get in touch to arrange
10. Glamp and canoe
The perfect riverside getaway beckons. Stay in a luxury riverside lodge at Whitney Bridge  and wake up to tranquil views of the old railway bridge and historic wooden toll bridge. Opt for a half day paddle to Turner's Boat Island, with the Merbach Hills in the distance. Or try the full day route to Bycross, which travels on past a medieval deer park, the manor house Moccas Court, as well as the sandstone cliffs and beech woodlands of Brobury Scar. Even better, try both!
Dates: All summer, subject to availablity
Image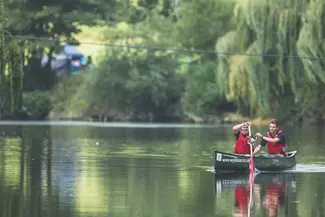 Image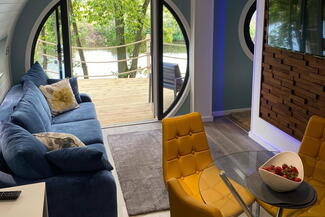 Longer Adventures
11. Hike & Paddle 6 Day Challenge
Up the ante with this exhilarating endurance adventure: an epic three-day trek followed by three-days in a canoe. Stay in country pubs on the first leg, then camp out by the river on your return. A tough but incredible way to take in the glorious Wye Valley and Golden Valley.
Dates: Self-guided
12. Wye 100 Paddle Challenge
Not for the faint hearted, Wye Adventures leads this fantastic challenge which takes in 100 miles of the River Wye, starting in Glasbury and passing through Hereford, Hoarwithy and Symonds Yat before going over the border into Wales.  Stay in campsites along the way, refuelling at nearby country pubs in the evening. You'll be accompanied by a qualified guide, which is particularly reassuring at the point where the Wye joins the Severn as the Severn Estuary has the second highest tidal range in the world. Expect idyllic countryside, sore arms and memories to treasure.
Dates: Get in touch to arrange
Image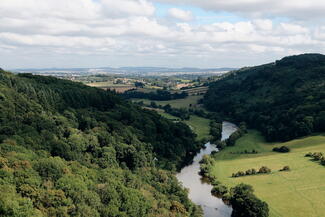 Everyone is Welcome
13. Accessible adventures
Canoeing on the Wye is something those with mobility issues can enjoy too. Adventures with Dave is experienced at adapting activities for wheelchair users and can design to trip to suit specific individual needs. 
14. Dog-friendly fun
Welcome a four-legged captain aboard your canoe. Most of our providers happily welcome well-behaved dogs on board (please double check in advance) and typically provide a buoyancy aid to keep them safe. Keen swimmers will also enjoy taking a dip in the water. Unbelievably cute.
Image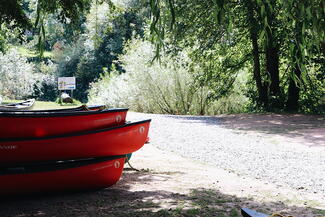 Image