Top 4 Vineyards to Visit
Make the most of the grape harvest with tours & tastings
Image

17th September, 2021
Herefordshire's cider-making credentials are legendary but our cup (or should that be glass?!) overflows with fabulous wine producers too. Enjoy vineyard tours and tastings, all in the most stunning of surroundings.
Image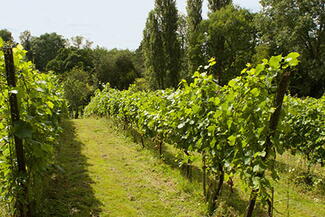 Image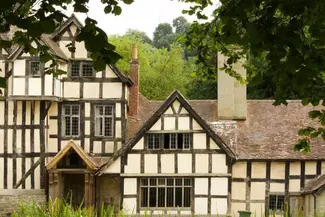 Wythall Estate
Wythall Estate in the Wye Valley makes award-winning wines, including the Siegerrebe Wythall Estate white. Set in a secluded spot, with rolling hills all around, the vineyard benefits from its own unique micro-climate. Join a tour to find out how the team harnesses its terrain and uses low-intervention methods to produce special wines. Afterwards, attend a tutored tasting in the delightful sixteenth-century half-timbered Manor House.
In the area: visit Ross Wines, a small family shop (with a vast selection of wines) in Ross-on-Wye
Image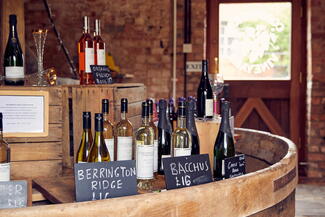 Image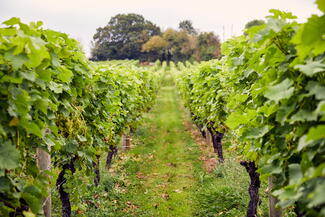 Coddington Vineyard
Coddington Vineyard, just four miles from Ledbury, is a family affair. Peter and Sharon Maiden produce a boutique selection of wines and offer vineyard tours as well as tasting experiences and the chance to enjoy a light lunch in the delightful gardens too.  Coddington's collection of single variety wines, along with a variety of local produce, can be purchased from their shop in the old apple press house. Their award-winning Bacchus and sparkling Pinot Gris are particularly popular.
In the area: pop to Ledbury to peruse the selections on offer at Hay Wines and The Wine Shed
Image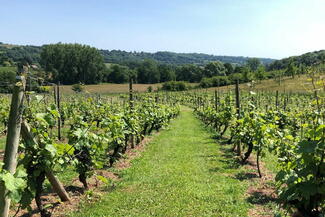 Image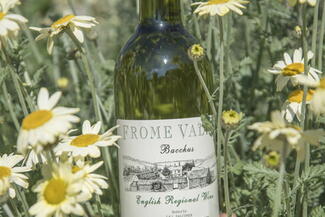 Frome Valley Vineyard
Standing on the banks of the River Frome at Paunton, Frome Valley Vineyard is surrounded by orchards, hop yards and rolling meadows. The team here make still and sparkling wines including Pinot Noir, Bacchus, Reichensteiner, Madeleine Angevine and Rondo – these varieties are well suited to the conditions as they benefit from a long growing season and slow ripening. The on-site shop sells their wines, cider and brandy and welcome groups of up to 20 people for tours and tastings.
In the area: Visit Legges of Bromyard or the food hall at The Hop Pocket to discover local bread, cheese and pates
Black Mountain Vineyard
Black Mountain Vineyard is set in the beautiful Herefordshire countryside and produces three distinct sparkling wines all grown and bottled on site – a sparkling white, a sparkling rose and a Col Fondo. Mark and Laura Smith planted the vineyard in 2009 with a wealth of knowledge from working harvests in France, studying viticulture and oenology and working with a local organic producer. They're very happy to book tours and delight in showing visitors around. 
In the area: Half an hour's drive away is Monkland Cheese Dairy, which offers cheese tours and sells a fantastic array of regional varieties which are made on site