Marcle Ridge to Ross-on-wye
Image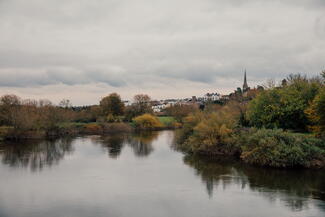 Intro
Much Marcle is home to the 13th century St Bartholomew's Church, one of Herefordshire's treasures. The 1500-year-old yew tree at the door is so big and so hollow that there is a seat inside.
Image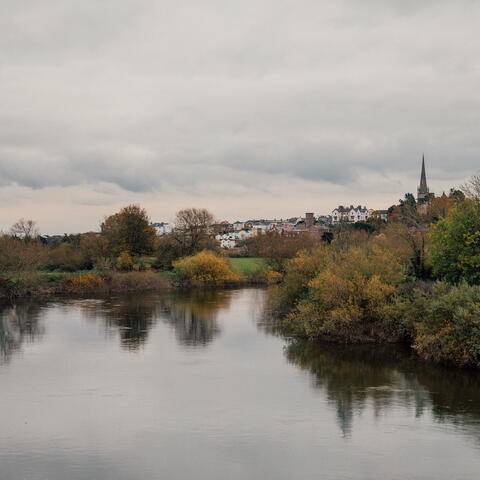 Total elevation gain: 366m
Route Guide
In the church, find the tomb effigy of Blanche Mortimer which "might be the original for Sleeping Beauty," according to Sir Simon Jenkins in England's Thousand Best Churches. Blanche, from the powerful Marcher Lords dynasty of the Mortimers, died in 1347 aged 31. Her grieving husband Peter Grandison, whose effigy in knightly armour can be seen in Hereford Cathedral, commissioned a tomb which has enthralled many. The great architectural historian Sir Niklaus Pevsner enthuses over the "strikingly beautiful head" whilst Simon Jenkins describes "an image as lovely as any bequeathed by the medieval church."
Onto Perrystone Hill where the trail passes through delightful Yatton Wood, a substantial tract of oak forest echoing with birdsong and famed for its bluebells. This hilly section of the trail loops close to the Gloucestershire border via Crow Hill hamlet and Wobage Farm Pottery & Makers Gallery, founded by the late Mick Casson, a studio potter of international acclaim. Call in to view contemporary pottery, ceramics, furniture and jewellery (open Thursday, Friday and Saturday).
Through fields enlivened by the song of skylarks, the trail heads to the River Wye. The tiny riverside hamlet of Hole-in-the Wall once boasted a substantial fortified manor house. Its name may derive from Turlestone ('hole-stone') mentioned in the Domesday Book as within the king's manor of Much Marcle.
As the trail heads for higher ground, enjoy far-reaching views over the Wye Valley and pass through the churchyard of the Norman Brampton Abbotts Church.
Offering plenty of places to eat and stay, the buzzy market town of Ross-on-Wye, with its soaring church spire, can be seen in the distance on its sandstone perch.
Route Highlights
Image