Pensons - A Foodie Delight
Showcasing Herefordshire's finest produce
Image

29th April, 2021
Pensons, located on the historic Netherwood Estate on the Herefordshire/Worcestershire border, is an ingredient-led, Michelin Star restaurant, that celebrates the very best that Herefordshire has to offer.
Head Chef, Chris Simpson, and his team serve flavour-led seasonal dishes using ingredients sourced directly from the Estate or locally. Pensons firmly believe that great cooking starts with the quality, seasonality and freshness of the ingredients; it is a celebration of the bounty and heritage of this corner of England. This approach focuses on ingredients' sustainability and welfare credentials, reducing packaging waste and food miles. Favourite foodie specialities include Herefordshire Herdwick lamb, foraged wild garlic, local soft fruits as well as Ragstone and Herefordshire Hop cheeses from Neal's Yard Creamery in the Golden Valley.
Image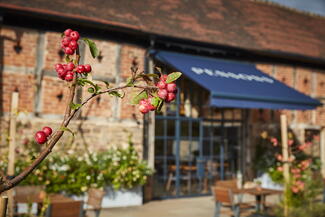 Image
From coastline to countryside
Chris is a country boy at heart and is delighted to have the Estate and kitchen garden with its beehives, animals, game and endless foraging opportunities to inspire his menus and flavour combinations.
Chris was previously Head Chef at Restaurant Nathan Outlaw in Cornwall, which has two Michelin Stars. He then moved on to Gidleigh Park in Devon as Executive Head Chef, leading the team that won a Michelin Star there.  
Chris explains how his relocation to Herefordshire has provided the opportunity to approach his cooking in a different way:
"Moving to Herefordshire has given me the chance to explore the breadth and flavours of the seasonal ingredients now readily at my fingertips and get more creative.  The freshness and quality of ingredients is key and I use these as the building blocks for inspiring a more creative menu based on rich flavour combinations.  
One of the best things for me has been meeting the local producers and farmers who are all so passionate about their produce and are a real joy to collaborate with. I source meat from carefully selected local butchers and farmers including Legges of Bromyard and family-owned Knightwick Butchers. Outstanding rare breed meats, including Middle White Pork, are supplied by Richard Vaughan at Huntsham Court Farm in the Wye Valley.  The only ingredient Herefordshire can't supply is fish - that comes from day boats in Cornwall using sustainable fishing methods and is shipped to us overnight."
Local HPA and Butty Bach beer are served alongside ciders from local producers such as Little Pomona.  In addition, Pensons has an extensive wine list with the option of a paired wine flight to complement the tasting menu and seasonal cocktails inspired by the fruits and herbs in the kitchen garden using infusions such as Netherwood Rhubarb and Damson Gin alongside teas from the Kitchen Garden including Fresh Mint and Lemon Verbena.
Image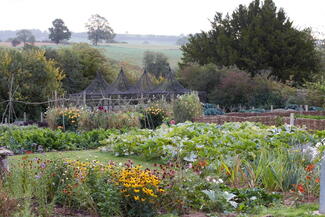 Image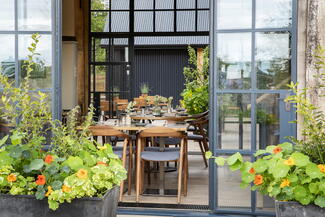 Eco Eating
Sustainability is a considered and invested approach. Where possible, Pensons grow, forage and farm as many of the vegetables, herbs and fruit as they can. The kitchen garden at Pensons has been transformed from a patch of wasteland into a productive, beautiful space adjacent to the restaurant.  Being less than two years old, it is still work in progress and expanding, but already supplies about 50 different ingredients to the kitchen every week.  Not only does this allow Chris and his team to be 100% certain that this produce has not been treated with any 'nasties'. It also eliminates the need for packaging and means food miles are reduced to mere steps.   
All green waste from the kitchen is composted and re-used in the garden to create a virtuous circle and they follow a 'no dig' practice in the growing beds to optimise soil structure, health and fertility. Collected rainwater is used for irrigation and used coffee grounds are recycled as a growing medium for mushrooms, in addition to the 'shoddy' offcuts from the Estate weaving mill to help force the rhubarb.  Rapeseed from the Netherwood Estate is harvested and cold-pressed to maintain its nutritional benefits and used by the chefs.
Pensons aspires to build a sustainable, locally-orientated, responsible business that continues to inspire and benefit their guests, employees and other businesses in the area by demonstrating that it is possible to serve exceptional food with a lighter footprint. 
Image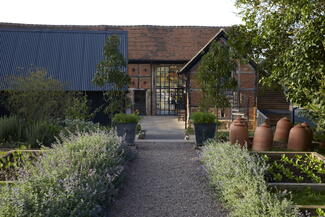 Image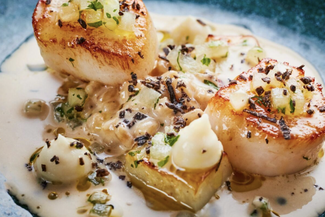 An interior with integrity
Their hyper-localism extends throughout the restaurant – collaborations with local artisans reflect the sense of place and reinforce the restaurant's values. The seat covers and napkins were made in the weaving mill on the Estate, the steak knives were forged by their blacksmith neighbour, the lampshades were crafted by a local basket-maker, Jenny Crisp, using willow from a nearby wood and the giant bellows are from the Estate forge. The plates and ceramics used at Pensons are all commissioned and hand-made by Cleefold Pottery and Isatu Hyde, which are both just over the border in Shropshire.