Ten Best Bluebell Woods in Herefordshire
An insider's guide to bluebell spotting in our ancient woods
Image

10th March, 2021
Psst! We're sharing our top ten best woods for bluebell spotting. Come for a walk this spring in Herefordshire's gorgeous woodlands and be transported by the bluebell carpets. Plus, 900-year-old trees, ancient hillforts and limestone caves to find along the way, as the birds chatter and busy about.
1. National Trust Brockhampton
Take a wander along the way-marked trails to find Brockhampton Woods' bluebells. Head for the aptly named Paradise Wood (towards Blews Ditch) to see one of the best displays on the estate.
2. Mortimer Forest
You can, quite literally, stroll through fields of bluebells on Climbing Jack Common in Mortimer Forest. Leave the car at Blackpool car park and follow the path at the far end. 
3. Credenhill Park Wood
Amongst the ancient broadleaved trees lie blankets of bluebells, accompanied by early purple orchids and wild garlic. There's a huge Iron Age hillfort here too, believed to have once been a tribal capital.
4. Wapley Hill Wood
Swathes of bluebells carpet these woods which are home to Roe, Fallow and Muntjac deer. Follow the gentle three-mile circular route from the car park to the Iron Age hillfort.
Image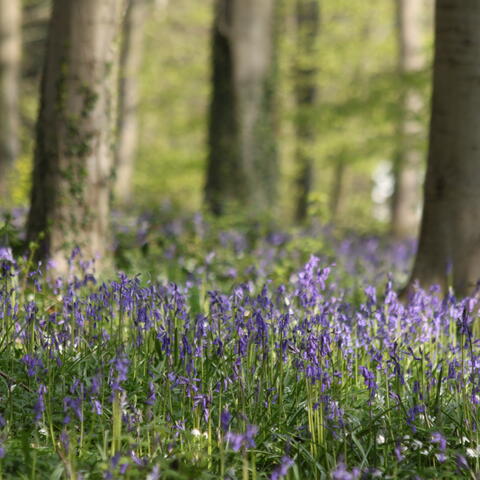 Image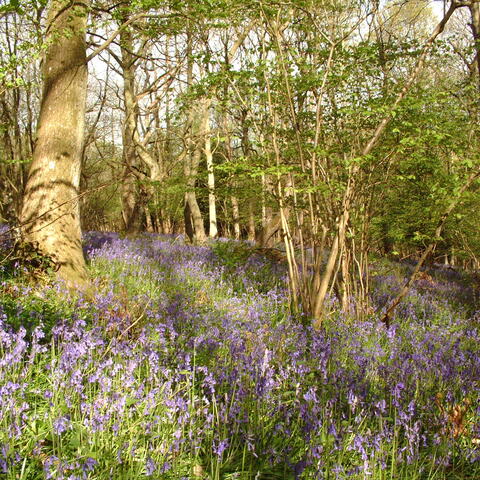 5. National Trust Croft Castle
Weave your way through the bluebells on the extensive trails through the grounds and wood pasture at Croft Castle. The sight of thousands of blooms beneath the 900-year-old Candelabra Oak will take your breath away.
6. Little Doward Woods
Dander through the drifts of bluebells and spot the nationally rare whitebeam trees growing in amongst the caves and limestone cliffs. A Bronze Age hillfort crowns the woods, offering magnificent views.
7. Lea & Pagets Wood
Escape to the shady seclusion of Lea & Paget's wood in the lovely village of Fownhope. Stroll the dappled paths in spring to enjoy bluebells, primroses and yellow archangels.
8. Queenswood Country Park & Arboretum
A magical spot to go bluebell spotting. Ramble around the woods with drifts of bluebells at your feet.
9. Frith Wood
Wander from Ledbury's town centre to Frith Wood to take in the blue blooms. Enveloped by trees, the narrow track on the top ridge is carpeted with flowers. Turn left at Bradlow Knoll for a delightful view of the town, make your descent and return through Dog Hill Wood.
10. Mousecastle Wood
Just a mile away from Hay-on-Wye is Mousecastle Wood. Glorious bluebells line the path and the views are worth the climb to the top of the motte and bailey hillfort.
11. Nupent Wood
We couldn't resist adding just one more! This tiny ancient wood is only 5 hectares but there's an abundance of bluebells every spring.