Discover our Vineyards: tours & tastings, wine walks & vineyard sleepovers
Celebrate English Wine Week
Image

8th June, 2022
Herefordshire's cider-making credentials are legendary but our cup (or should that be glass?!) overflows with fabulous wine producers too. Enjoy vineyard tours, tutored tastings and winery sleepovers, as well as a stroll around our glorious landscapes, courtesy of our brand new wine walks.
Image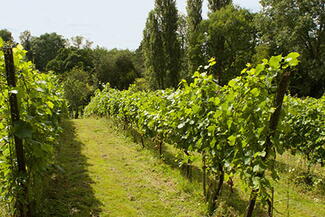 Image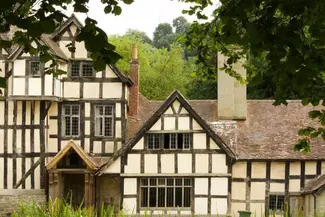 Wythall Estate
Wythall Estate in the Wye Valley makes award-winning wines, including the Siegerrebe Wythall Estate white. Set in a secluded spot, with rolling hills all around, the vineyard benefits from its own unique micro-climate.
Tours & tastings: Join a tour to find out how the team harnesses its terrain and uses low-intervention methods to produce special wines. Afterwards, attend a tutored tasting in the delightful sixteenth-century half-timbered Manor House. Tastings run on various Saturdays and cost £20 per person. More Info.
Wine Walk: A gorgeous circular 4.7 mile walk taking in Wythall Estate. Read more.
Winery sleepover: The estate also offers two holiday cottages - The Game Larders sleeps two and The Old Bakehouse sleeps four - which both welcome dogs.
In the area: visit Ross Wines, a small family shop (with a vast selection of wines) in Ross-on-Wye
Image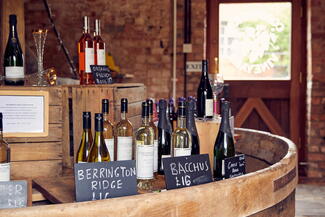 Image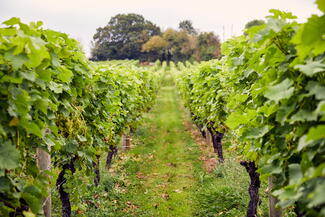 Coddington Vineyard
Coddington Vineyard, just four miles from Ledbury, is a family affair. Peter and Sharon Maiden produce a boutique selection of single variety wines which can be purchased, along with a variety of local produce, from their shop in the old apple press house. Their award-winning Bacchus and sparkling Pinot Gris are particularly popular.
Tours & tastings: Find out more about the wine-making process by booking a vineyard tour and tasting experience, from £15 per person. Guests can also enjoy a light lunch in the delightful gardens too.  More Info
Wine Walk: Take a glorious 5 mile circular walk, visiting two country churches and Coddington vineyard. Read more.
Winery sleepover: Stay the night at the vineyard, either in the Grade II listed Hop Cottage (sleeps four) or the contemporary eco-cabin called Vine Lodge (sleeps two). 
In the area: pop to Ledbury to peruse the selections on offer at Hay Wines and The Wine Shed
Image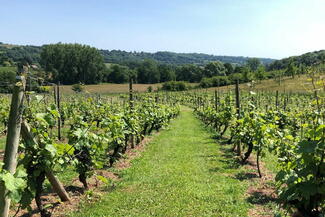 Image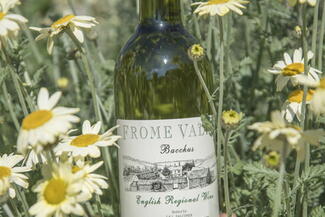 Frome Valley Vineyard
Standing on the banks of the River Frome at Paunton, Frome Valley Vineyard is surrounded by orchards, hop yards and rolling meadows. The team here make still and sparkling wines including Pinot Noir, Bacchus, Reichensteiner, Madeleine Angevine and Rondo – these varieties are well suited to the conditions as they benefit from a long growing season and slow ripening. The on-site shop sells their wines, cider and brandy.
Tours & tastings: Groups of up to 20 people are welcomed for tours and tastings which start at £20 per person. More Info.
Wine Walk: Wander through hop yards, cider orchards and, of course, vines on this circular 4.6 mile route. Read more.
In the area: Visit Legges of Bromyard or the food hall at The Hop Pocket to discover local bread, cheese and pates.
Image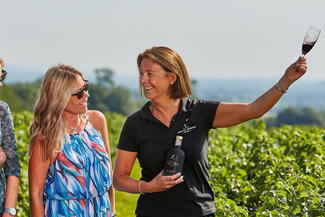 Image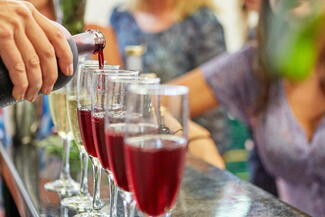 White Heron Drinks
The family owned Whittern Estate has a reputation for growing blackcurrants, some of which go to make White Heron's British Cassis. Now the owners are turning their hand to vines and last year planted 30 acres, focusing on Seyval Blanc, Reichensteiner and Madeleine Angevine varieties.
Tours & tastings: Tours start in the vineyard with owner Jo Hilditch sharing the history of fruit growing on the estate before taking guests to the Cassis room to see how they make the delicious liqueur and enjoy a tasting. In time, the tours will include tastings of the new White Heron sparkling wine.
Winery sleepovers: The 700-acre estate offers a collection of luxurious holiday cottages, from those accommodating large groups of up to 23 to smaller properties sleeping from two to six. Read more.
In the area: Take a trip to nearby Kington to stock up on local goodies at Number 25 Delicatessen.
Black Mountain Vineyard
Black Mountain Vineyard is set in the beautiful Herefordshire countryside and produces three distinct sparkling wines all grown and bottled on site – a sparkling white, a sparkling rose and a Col Fondo. Mark and Laura Smith planted the vineyard in 2009 with a wealth of knowledge from working harvests in France, studying viticulture and oenology and working with a local organic producer.
Tours & tastings: They couple are very happy to book tours and delight in showing visitors around. Visit their website to get in touch.
In the area: Half an hour's drive away is Monkland Cheese Dairy, which offers cheese tours and sells a fantastic array of regional varieties which are made on site
Foxbury Fields
At the foot of the Malvern Hills in Bromsberrow lies Foxbury Fields which produces small batch Bacchus and Ortega wines from grapes grown in their own unique micro-climate.
Tours & tastings: Join owners Heather Williamson and Richard Baker during English Wine Week for a free tour and tasting. Dates available at the time of writing are: June 18th, 20th and 22nd. See their website blog for booking details.
In the area: Call in at The Shop at Bromsberrow for local produce plus arts & crafts.
Don't Miss: Wine Walks
Try one of our series of Wine Walks, perfect for a day out or as part of a wine weekend away, including a sleepover on a vineyard.