Roasts & Rambles
Image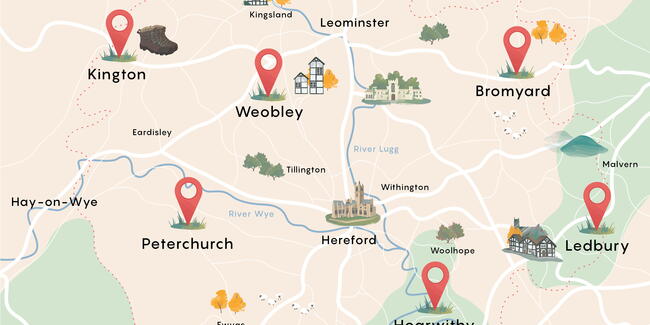 10 Circular Walks – spectacular views & fascinating history.
We put these walks together to give you just a hint of the glorious walks you can enjoy throughout Herefordshire. They are not intended to be the 'top' walks (you may have your own favourites). But what we can say with authority is we enjoyed every one of them as we did our dedicated research – including the hostelries at the end of them! There are walks to suit you, your family and your energy levels, all offering the promise of beautiful Herefordshire country with views to remember. There's always an unexpected surprise or treat along the way, whether wild ponies on the hilltops or a castle or motte and bailey that surely you are the first to discover!
And remember … if these walks have sold you that Herefordshire is a great walking county, don't forget all the other great walks you can enjoy. Like the Mortimer Trail, the Wye Valley Walk, Offa's Dyke Path … and many more!
Toes twitching? Take a look at our 10 Roasts & Rambles below!
Image